Tanner Hoops | Staff Writer
The Buena Vista basketball teams split two thrillers Saturday against IIAC newcomer Nebraska Wesleyan. The Beaver women scored as the final buzzer sounded to escape Lincoln with a 53-52 victory while the men dropped their first road game of the season 88-82.
In the women's game Buena Vista fell behind 8-1 early in the first quarter but Sidney Beckman knocked down three three-pointers within a span of 78 seconds to put BVU ahead 10-9. The two teams found themselves tied after one quarter, 13-13, but the Beavers outscored their hosts 17-9 in the second frame to take a 30-22 lead into the halftime locker room. Buena Vista took a 40-32 lead into the fourth quarter but the Prairie Wolves used an 18-9 run to take a 50-49 lead with 5:14 left in the game. Neither team would score again until the final five seconds of the game when BVU's Morgan Muhlbauer connected on a go-ahead layup, giving BVU a 51-50 lead.
After calling a timeout to advance the ball into the front court, NWU's Caitlin Navratil was fouled with three seconds left and sent to the foul line for two free throws. Navratil connected on both foul shots, giving NWU a 52-51 lead. After a BVU timeout advanced the ball into the front court, the ensuing inbounds pass went to Jasmine Demers who got off two dribbles then passed to a cutting Muhlbauer in the lane, who's layup attempt beat the buzzer and dropped through the hoop.
Demers led all scorers with 15 points while Muhlbauer scored ten to go along with eight rebounds. The Beavers, now winners in four of their last five games, improve to 4-3 (2-0 IIAC) while Nebraska Wesleyan drops to 3-3 (0-2 IIAC).
"It's a great place to be," said Head Coach Janet Berry of her team's 2-0 start to conference play, "I told our team a win today, even an ugly one-point win, is still huge for us. Good teams find ways to win games and we were able to today."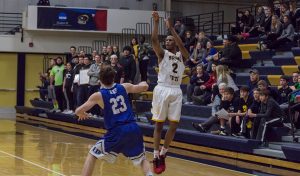 The Beaver men led by as many as ten points in the first half of their game but an 11-0 Prairie Wolf run gave NWU a 44-42 halftime lead. Buena Vista was able to take the lead twice early in the second half before Nebraska Wesleyan built a seven-point lead with just over nine minutes remaining. A 7-0 Beaver run tied things up at 74-all at the 7:36 mark but the Prairie Wolves outscored BVU 14-8 the rest of the way to secure NWU's first-ever IIAC win.
"They've (NWU) got a very nice team," said Head Coach Brian Van Haaften, "and they're not going anywhere, their three top players are sophomores and freshmen."
All five Beaver starters scored in double-figures, led by David Jeffries who finished with 21 points and eight assists. Kennedy Drey scored 15 points and recorded seven rebounds, while Paul Gallagher and Thomas Wisecup each added twelve points. NWU's Cooper Cook turned in a game-high 32 points, including going 6/10 from behind the arc.
"Road wins are going to be tough to come by in this conference," continued Van Haaften, noting that visiting teams are 1-7 in IIAC games this season.
BVU moves to 3-2 (1-1 IIAC) on the season while Nebraska Wesleyan improves to 6-1 (1-1 IIAC). Up next will be a doubleheader Wednesday night when the Beavers travel to Dubuque to take on the Loras Duhawks.
Photos by: Emily Kenny