What you need to know about the 2017 NFL draft
Hang on for a minute...we're trying to find some more stories you might like.
Draft weekend has come and gone and there are a lot of happy fans, and a lot of depressed fans (go Bears). The draft is a great event because there is such a long build up to actual draft day that pushes these athletes and scouts to their limits.
Once the season ends, these athletes spend every day preparing to get a chance at their dream job. Scouts spend months obsessing over these 20-23 year old guys and that's probably the only time it's not considered a little creepy. Except for the day at the combine where the athletes are in underwear and on stage getting weight and measurements; I feel like there has to be a better way to go about that.
Having said all that, this recap isn't going to grade teams' drafts or pick winners and losers because you can't tell who really "won the draft" for another three years. I also don't have close to enough knowledge to predict those things, so I'm not even going to try. Instead, we're going to focus on the important stuff like names, reactions, and attire because that's what's actually important.
Before we dive in, I'd like to thank the City of Philadelphia for making the last three days a living hell for Commissioner Goodell. I mean let's be honest, that guy sucks. Throughout the entire draft Goodell knew as soon as he hit stage he was going to be blown away with boos and booze, and rightfully so. The City of Philly represented every NFL fan the best way they knew how, politely and consistently letting the commissioner know we all hate him.
Best Name
Taco Charlton. Obviously. I can't tell you for sure that is his real name, but why should we care. Let's not do research to find out what his real name is because why would you spoil something so great. Congrats Taco, you're a Cowboy, give Jerry a punch in the boys for me please.
Best Reaction
Takkarist McKinley …. Wow. Please do yourself a favor and watch this video. Something about McKinley coming across stage holding a large portrait of his grandmother and dropping "F" bombs just seems so right. This guy just accomplished his childhood dream of becoming an NFL player and he's now a millionaire, so yeah I'll allow him three "F" bombs on live TV. Anymore than that and he's just showing off, but F yeah McKinley. I actually wish we had some more of this. You get your people that cry, others that act like they knew it was coming, but that's getting old. We need some excitement. I'd like to see a chair throw, a good champagne shower, or maybe even a nice Tiger Woods fist pump, you know the good stuff. For now, we can just celebrate Takkarist and the lack of a filter.
P.S. How about ending that great rant with a "you can fine me later man"???? Absolute GOAT move. Just got his million dollar paycheck and already making some donations to Goodell's wallet. Awesome.
Worst Dressed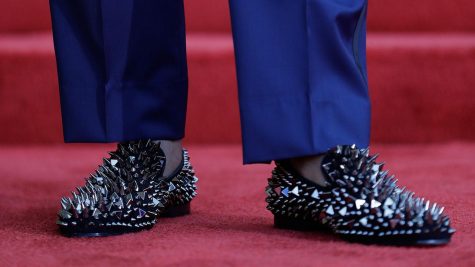 Deshaun Watson, what are you doing? I don't know anything about fashion nor do I pretend to, but c'mon man. He looks like he stole these from a Lady Gaga dressing room, which isn't a great look for a NFL QB. How are you supposed to call out "54 is the mike" with some conviction when you're wearing something like that? I don't know a lot about the Texans locker room, but I hope he's greeted with a little sweet chin music and a new pair of shoes when he gets there.
Biggest Surprise
Patrick Mahomes, 10th pick to the Chiefs. I said I wasn't going to do analysis but I lied, so like my buddy Tak McKinley said, you can fine me later. Like I said I'm not really sure if this is a good pick or a bad pick and we truly won't know for several years. The dude can throw it a mile and isn't afraid to rip a fastball into double coverage. Seems similar to all too recent ex QB, Jay Cutler. If you're reading this just know that Jay Cutler is a good NFL QB, it's not his fault that his coach/GM was terrible. Anyway, this pick is a surprise because obviously nobody saw this coming. Hopefully Andy Reid can roam the sideline long enough to see if this pick pans out.
Most Important Visual
Here is a video of Roger Goodell wiping a booger on someone. Don't really have anything to say about it, but undoubtedly very important news.
Well, I basically told you everything you need to know from the draft. Other than the four points I mentioned, nothing really happened. We found out the Bears are still going to be awful, several young men are about to start the end of their career in Cleveland, and the Vikings' fans are convinced they are going to win the Super Bowl.
Peace, Love, Go Cubs.
Brady Illg