Kellyn Arnold: Kicking to win big
Kylie Swanson | Sports Co-Editor
Buena Vista University's (BVU) women's soccer team remains unbeaten (5-0-1) this season. That puts them at six straight games without a loss, which matches its program record. Senior Kellyn Arnold has been a huge part of that success as she recently became the all-time career goals leader for the Beavers. Arnold surpassed 2011 graduate Kelsey Reitmeier for the record on a Sunday afternoon game against Northland College.
"It feels great. I started here as a freshman, and it was not a quality program. I've helped build up the team and goal scoring success goes along with that," Arnold said.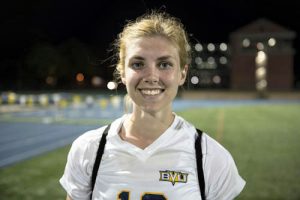 Out of all the goals she has scored in her time at BVU, Arnold recalls one goal that sticks out above all others. "Last year, my overtime goal against Cornell to win the game was a pretty special memory," Arnold said.
Arnold has helped the Beavers to four wins this season, all shut-outs, and has scored ten goals thus far, including three hat-tricks (three goals in a single game). Much of that success has come from head coach Tony Tommasi, who became the program's all-time winning-est coach earlier this season.
"He used to be a striker back in college so he's probably harder on us strikers than anyone else on the team, but he gives us a lot of pointers," Arnold said.
Iowa Intercollegiate Athletic Conference (IIAC) also honored Arnold, naming her their female athlete of the week for the period ending September 2. "It's a really great honor, and my parents are really happy," Arnold said.
Photo by David Ekstrom