The fab five: QB style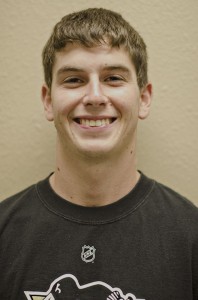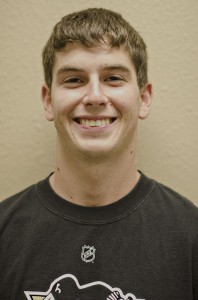 Grady Gallagher | Blogger
I kind of wish every weekend was filled with as many sporting events as this one had. Football defenses were left at home, the Ryder Cup is the best golfing event, and my Top Five Quarterback list has changed dramatically since last week. Iowa got a win against mighty Minnesota, but they lacked the strong second half I needed to see to make me think there is still hope for a solid season. A perfect weather weekend was the best way to end a long week.
Before I give my Top Five QBs, I just want to explain how awesome it was watching some games this weekend that had NO defense. Yes, I know, defense wins championships, but offense gets people to watch. Who would not have wanted to be at the West Virginia vs. Baylor game? Geno Smith, Helmet Sticker winner, put up video game-like numbers, and the best part about it was West Va's defense stayed on the bus with Baylor's! Seventy to 63 is a basketball score and will never ever happen in Kinnick Stadium. Although, I will give a shout out to Kirk Ferentz for the first ever trick play I've ever seen from the Hawkeyes.
While I'm frustrated about the Hawks after a win, I also can see why Cyclone fans are very upset after a poor loss to Texas Tech at home. With three yards passing at halftime (yes, you read that correctly), Steele Jantz was brutal to watch. I do not see them winning more than one game (Kansas) the rest of the season. I want to say two wins to make them bowl eligible, but I just don't see it.
It's time for my Top Five NFL Quarterbacks right now. When I say right now, I mean literally at this moment. Some QB's went off this weekend, which made picking the top five tougher than last week. Obviously, they read my blog and decided to step up their games in order to get a mention on the list. So, here we go.
Honorable Mention: Joe Flacco
Flacco has started off this season strong and has been carrying an aged defense on his back. Flacco's confidence is sky high, but he also plays with one of the best running backs in the league. In fact, the Ravens have not been using Ray Rice enough. The more effective Ray Rice is, the better Joe Flacco could be. Also, Flacco has made his receivers look great so far this year, but again, the reason why he is an honorable mention at the moment is because of the "clutch gene" factor. He may have it, but I haven't seen it…yet.
#5 Eli Manning
Fresh off a ring and with over 1,000 passing yards this early in the season, Eli is still only fifth on my list. I've just never really been a fan of Eli. I don't dislike him, but I don't like him. He has never had eye-popping numbers until this year, but he has always got it done in crunch time. Maybe he is not higher because he has beaten my boy TWO TIMES in the Super Bowl…maybe.
#4 Drew Brees
This guy can toss the rock. Even all the off-season buzz didn't faze Brees. He is off to a tremendous start to the season, spreading the ball and utilizing the best Tight End in football. The only problem is, they are win-less. Yes, he has a ring, but right now, the Saints are 0-4 and begging for answers (insert Sean Payton shaking his head).
#3 Aaron Rodgers
Yes, his fantasy numbers have not been what they should be, but it's tough to pass every play when the defense is expecting it. He can scramble, he is more accurate than a sharpshooter, and he can pass (Boobie Miles Dad's voice). With virtually no run game, a below average defense, and the reigning MVP title on his shoulders, A-Rod has enormous pressure mounting each time he steps on the field. Not to mention, the Packer's two losses are to solid defensive teams: the 49ers and Seahawks (Fail Mary). He is so good that I still believe that the Packers will win the NFC North while he carries the team on his back.
#2 Tom Brady
My boy! TB decided he had enough before the Bills game and was machine-like in his demolition of their defense. This guy can flat out ball, and until two weeks ago, I was questioning if he had already hit the peak. Never question Tom Brady. Just like the A-Rod case, TB has no effective running game to fall on, but he does have a better defense. TB wants another ring more than anyone, and last week's performance made them a legitimate contender again. Yes, I know they were playing the Bills, but the Pats will go as far as TB takes them.
#1 Matt Ryan
At this moment in time, this pick is unarguable. Nobody can stop Matty Ice right now. I almost considered dropping Michael Turner from my fantasy team because all the Falcons do is throw the ball. And at the moment, why would you do anything else? Ice has always been money in the Georgia Dome, but he has put up great numbers on the road as well. The Falcons are clearly the best team in their division, and it will be crucial for them to get home field advantage. Matty Ice has never been clutch in the playoffs (one reason I don't understand his nickname, but it's too sweet of a nickname to not call him by,) but from what I see from him thus far, that will change. His confidence is growing, and he is literally on fire to start this season.
It was hard not putting RGIII on this list because he has put up some serious numbers so far, and the winning drive against the Bucs showed me something. This guy is special, basically a less shifty Vick that can throw the pigskin around, but I want to see a few more games before I can brag about how good he is.
Well, there is my top five. Hopefully that got you as jacked as I was while watching the Ryder Cup on Friday afternoon. As always, thanks for reading, peeps.
Fantasy Beast: Geno Smith (Owned in 0% of ESPN's leagues, astonishingly)
Best Jerseys: Baylor
North Carolina State 32, Florida State 28
This video is a tribute to the MLB playoffs. This will be the day. http://www.youtube.com/watch?v=JVGAfA15U1I