HIPSO strives for a healthier campus through health walk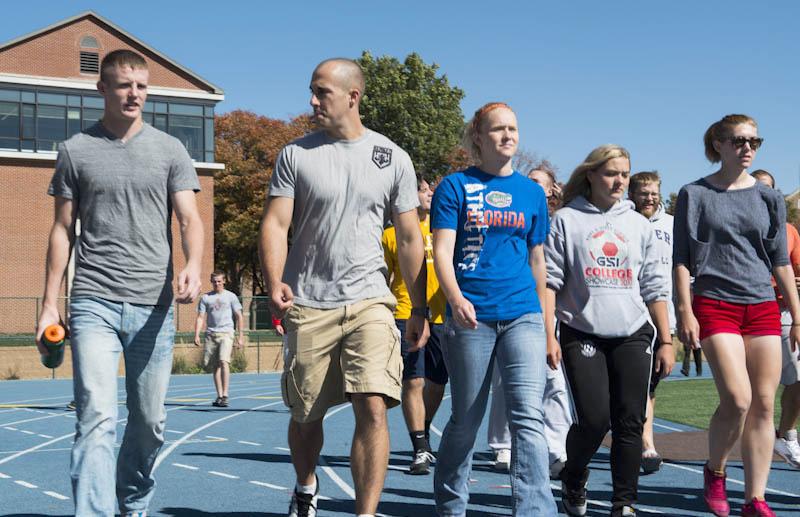 Bailey Schafbuch | Sports Co-Editor
As a part of Iowa's Healthiest State Initiative, members from the Buena Vista University (BVU) campus participated in the Healthiest State Walk at noon on Oct. 3, 2012.
A group of around 20 students met at the outdoor track and participated in a 1k walk (about .62 miles) in order to promote the idea that even walking for a little while can improve health. Anyone in the state of Iowa was welcome to sign up to participate in the walk, whether it was elementary schools, high schools, colleges, businesses, or health clubs. After hosting a walk, the primary goal was to get the participants to register on the Live Healthy Iowa website in order to record attendance of the walks throughout the state.
This walk was organized by senior Shelby Ripperger, president of Human Performance Student Organization (HIPSO) after Matt Hanson, Assistant Professor of Exercise Science, suggested the idea.
"HIPSO is an organization for human performance majors and anyone else who wants to be involved. The main goal of the organization is to encourage physical activity, fitness, and overall wellness on the BVU campus," Ripperger said.
Many participants in attendance were part of Hanson's Lifetime Health Management class.
"We spent a lot of time in class talking about the importance of health and what the state and national governments have done about it. This is one of those initiatives. Anytime you tie in these initiatives in with class, it reinforces what it is that you're doing. Plus, the overall promotion for the city is beneficial," Hanson said.
Senior Nick Plueger was one specific student in the class who participated in the walk at noon.
"As a future physical education teacher, I know the importance of living a healthy lifestyle, and I'd like to be a role model for the students, so I thought I figured it would be to my advantage to participate in this walk," Plueger said.
Photos by David Ekstrom
[nivoslider id="5566″]