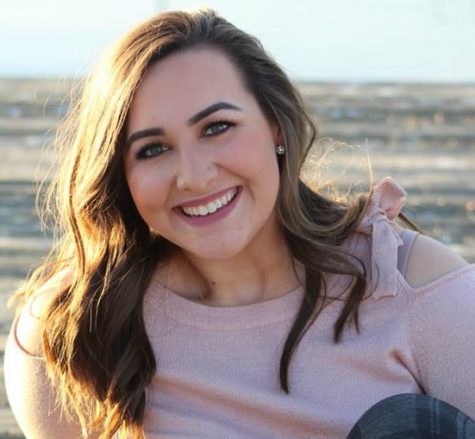 Hi y'all! My name is Alyssa Donnelly, I'm a Strategic Public Relations major, with a digital media minor! I have been apart of The Tack for three years, as the News Assistant Editor, and Arts & Life Assistant Editor, this year I am the Lifestyle & News Photographer.
Being apart of The Tack Online has given me great opportunities in meeting new people while learning to advance my writing and photography skills on and off campus. Outside of The Tack, I am involved in cheerleading, and SCJ (Society for Collegiate Journalists).
Thank you for visiting my profile! Make sure to check out some articles I have written on the right! Go Tack!
Alyssa Donnelly, Lifestyle & News Photographer
Apr 06, 2019

Service Has Made Me A Better Person

(Story)

Oct 25, 2018

BVU Introduces New Home Away From Home Program 

(Media)

Oct 16, 2018

A New Look to the Cheer & Dance Program

(Story)

Oct 03, 2018

Maldonado Proposes a Water Fountain to be Installed in the Suites

(Media)

Sep 24, 2018

BVU Students Can Benefit from Free Passport Program 

(Media)

Sep 20, 2018

Is the New Serve Working?

(Story/Media)

Sep 18, 2018

Jones Leads New Executive Board as BSU Prepares for 2018-19 School Year

(Media)

Sep 15, 2018
May 04, 2018

Sodexo Is about to Cru5h It

(Story)

Apr 23, 2018

BVU holds sexual assault 5K Hippie Hustle

(Story)

Apr 03, 2018

BVU offers interim trip to Easter Island January 2019

(Story)

Mar 28, 2018

A Mother, Employee & Student

(Story)

Mar 16, 2018

BVU freshmen prepare for their first spring break

(Story)

Mar 13, 2018

ACES: Poverty Simulation

(Story)

Mar 02, 2018

Top 10 affordable beauty products

(Story)

Feb 28, 2018

Short Story Author Reads from Collection

(Story)

Feb 23, 2018

From Sun to Snow: Beavers experience their first winter in Iowa

(Story)

Nov 28, 2017

"This is who I am!"

(Story)

Nov 17, 2017

Student creates "Little Free Pantries" to address local food insecurity

(Story)

Oct 11, 2017

BVU students host "Moon Festival"

(Story/Media)

Oct 10, 2017

Jimmy John's Has a Freaky Fast Opening

(Story)

Sep 28, 2017

New Faculty Profile: Dr. Richard Riner

(Story)

May 18, 2017

Should we do away with 8:00 a.m. classes?

(Story)

May 03, 2017

A Trip through History

(Story)

Apr 19, 2017

S.A.V.E. t-shirts on campus spark conversation

(Story)

Feb 26, 2017

Dance Team to Perform at the Iowa Energy Basketball Game

(Story)

Feb 23, 2017

Psychology professor authors several books

(Story)

Feb 23, 2017

The Vagina Monologues event set for Saturday

(Story)

Feb 08, 2017

BVU offers "An Evening of Short Operas" this week

(Story)

Dec 02, 2016

ACES programming educates about relationship violence

(Story)

Nov 29, 2016

BVU progresses with active shooter safety procedures

(Story)

Nov 14, 2016

Fall Etiquette Dinner: Students learn to dine in style

(Story)

Nov 07, 2016

Where & how to vote on Tuesday

(Story)

Nov 02, 2016

Deans Fellows are Partners In Excellence

(Story)

Oct 14, 2016

Beaver Homecoming Spirit Award

(Story)

Oct 14, 2016

Dinner at the President's house is a special tradition

(Story)

Oct 03, 2016

Senior workshops created to get you ready for graduation

(Story)

Sep 16, 2016

MELT Hispanic Heritage event spreads cultural awareness on campus

(Story)

Apr 14, 2016

2016 BVU Senior of the Year Nominees

(Story)

Apr 05, 2016

"Walking Miracle" runs again

(Story)

Mar 17, 2016

I'm not drunk, I'm Irish

(Story)