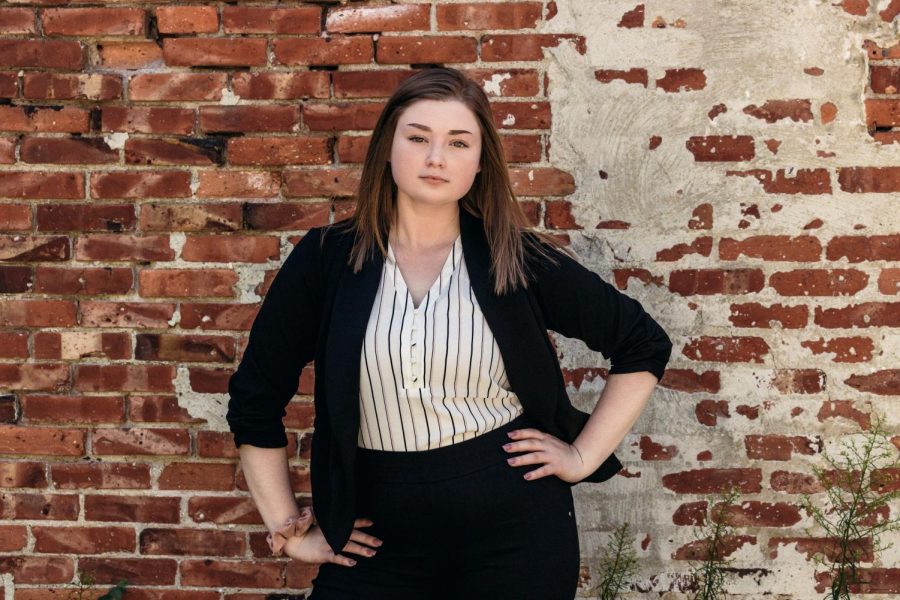 Hello!
My name is Autumn McClain and I am co-Editor in Chief at The Tack Online. I'm a junior at BVU majoring in Multi-Cultural Media Studies with an interest in global scale journalism. I will be interning with The Storm Lake Times fall semester 2020 in addition to being a full-time student, an RA for Pierce/White, an Academic Assistant for professor Mary Mello-Nee, a 2nd Assistant Manager at Hy-Vee, a member of Society for Collegiate Journalists, News Director at KBVU, Project & Digital Content Producer at BVTV, News Anchor for BVTV News, and leading The Tack!
I started writing with The Tack Online my freshman year. I have served this organization in the following positions:
assistant-Opinion Editor (2018), main-Opinion Editor (2018), main-News Editor (2019), co-Editor in Chief (2020).
I'm excited to work with our experienced writers and introduce our new staff memebers to the world of journalism and creative writing. My vision for this organization is to empower our staff to produce reliable, ethical, timely, and relevant content for our primary audience, BVU students. Go Beavers!
Autumn McClain, Co-Editor in Chief
Nov 12, 2020

Who is BVU's 19th President?

(Story)

Jun 16, 2020

Storm Lake Supports Black Lives Matter Movement

(Story)

May 02, 2020

Buenafication Day 2020

(Story)

Nov 18, 2019

Pierce-White Potty Scandal: Who's Pissed and Who's Pissing

(Story)

Nov 13, 2019

Women's Wrestling: Building Community and Encouraging Growth

(Story)

Nov 06, 2019

BVU Theater Makes History with First Bilingual Play

(Story)

Oct 16, 2019
Oct 16, 2019
Oct 15, 2019

A Coming Out Story at BVU

(Story)

Oct 08, 2019

BVU Gives Warm Welcome to "The Woz"

(Story)

Oct 02, 2019

Navigate Student App

(Story)

Sep 27, 2019

BVU Receives 2020 Best Valued School Award

(Story)

Sep 17, 2019

Show Your BVU Spirit: Homecoming 2019

(Story)

May 08, 2019

Every Body is a Summer Body

(Story/Media)

Apr 25, 2019

Summer 2019 Must-Dos

(Media)

Apr 24, 2019

BVU Theatre Presents: "Spamalot"

(Story/Media)

Apr 12, 2019

Questions Surround Bertrand's Early Departure 

(Story/Media)

Apr 04, 2019

Robbie Ludy: Professor of Special Education

(Story)

Mar 08, 2019

Trump, Bernie, or Kanye 2020? 

(Story/Media)

Mar 03, 2019

Julian Castro Visits Storm Lake

(Story/Media)

Feb 22, 2019

Cru5h Trial & Error 

(Story)

Feb 21, 2019

Cru5h Up & Running

(Story)

Dec 07, 2018

How Important Are Course Evaluations? 

(Story/Media)

Nov 20, 2018

The Controversy: Celebrating the Holiday Season too Early

(Media)

Nov 15, 2018

Trump's Caravan Commercial: Insensitive with a Negative Generalization of Immigrants

(Story)

Nov 09, 2018

The Community Orchard Review

(Story)

Sep 25, 2018

Don't Stress: Tips to Help Relax in College

(Story/Media)

Sep 20, 2018

Offensive Langauge, Catfishing, and No Consent in New Netflix Teen Comedy

(Story)