High Energy Acting and a Rotating Set Wow in "Noises Off"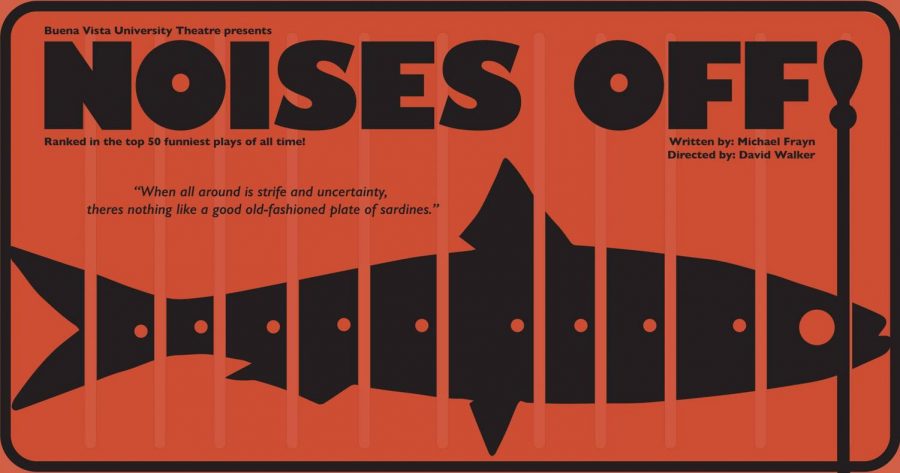 Sarah Nicholson, Staff Writer
April 26, 2018
"Noises Off" is the Buena Vista University (BVU) Theatre spring play debuting tonight, and what a show it's going to be!
The plot of "Noises Off" is a play within a play and follows the chaos that goes on behind the scenes of a production. While the plot drama is more for laughs than accuracy, that is the point, according to the play's director, Assistant Professor of Theater, David Walker.
"This is the quintessential slamming-door farce. This is French Feydeau kind of world, but in the American version," Walker said.
Walker explained the audience may have seen farces performed before as they are popular in community theatre. He describes them as the "chase-your-wife-around" type of shows, but he says "Noises Off" derives its farcical humor from more than the chase.
"This has a little bit of that, but it's more about the entrances, exits, the near misses," Walker said.
As a matter of fact, Walker who also designed the set, said this farce has the most openings in the actual set for these ins and outs that he's ever constructed.
"It has nine different openings in the set, and most of the other slamming door farces you see maybe have two, three, four tops," he said. "You start looking for, 'Okay if I'm really going to mess with my world, how high do I have to go?' I've never seen a show that has ten."
This constant movement and sense of frenzy hits its height in the second scene of the play, and according to Walker, the mere physicality of the sequence leaves his cast worn out . There is so much happening on stage, that Walker encourages people to attend the show twice, simply to catch all the details.
The constant movement also gives the actors bigger challenges.
"The biggest challenge for the actors is first they had to learn the lines, and basically it's three times the same set of lines, but in each case, it's different, so it's not the same lines in the same situation. So trying to remember which line am I saying and which act am I in was tough," Walker said.
"Then, once they did that, we started adding all the properties into the show. They had to relearn the show again with properties. And then, we added costumes, and all the other stuff, so basically they had to learn the show three times adding new things too it because it's so rich with all of those different aspects," he added.
If Walker chose a production that would challenge his actors, he equally chose a set that would challenge his set crew. Arguably the biggest challenge that Walker took on for "Noises Off" was the massive set design. A four ton, two-story, rotating platform with three full sets of stairs to be exact. If it sounds massive, it is. And, while six students can move it with the help of giant hooks, it's still a delicate task. Though Walker is convinced it will "spin like a top" on opening night.
No joke: the set for BVU Theatre's spring comedy is gigantic

Noises Off! has one of the largest, most intricate theatre set designs ever to be conceived at BVU! The set weighs approximately 4 tons, is two stories tall, and it rotates! Noises Off! starts April 26 at 7:30 p.m. and runs through Saturday! https://business.facebook.com/events/170777143596698/

Posted by Buena Vista University on Monday, April 23, 2018
"This is the largest set that I've built here. This has 32 pieces of platforming in it, and it's got three staircases, plus the two we build. So it's the largest footprint that we've ever put here," Walker said.
Walker said all of the rigging is taken as far to the roof as it can go in Anderson Auditorium, and all of the lights had to be "roostered out," because if they hang down in their normal positions, the set's walls would hit them.
"It's pretty big, but it will come apart really really fast," he said. "It's structural and it's safe, but literally, you remove about six screws, and it loses its integrity."
While taking it down may not be a big time commitment, the same cannot be said for putting it together. Walker worked with about eight work study students regularly over the past several months to construct the massive set.
"We figured out the hours per-week, and it was somewhere in the neighborhood of about 32 hours a week for the group. And then I'm here all the time, so it was about fifty hours a week total time. For ten weeks, so about 500 hours," he said.
BVU students, faculty and staff, as well as community members, can see the impressive set and watch the actors using it to create laughter beginning tonight. "Noises Off" will be playing Thursday, April 26, through Saturday, April 28, at 7:30 p.m., nightly.
Tickets for the play can be reserved online at www.bvu.edu/tickets or by calling the BVU Theatre Hotline at 712.749.2211. Tickets are $5 for adults and $3 for senior citizens and non-BVU students.
Photos by Sarah Nicholson
Video courtesy Buena Vista University Marketing & Communication