Merle Phillips | BVU Class of 1930
I want to remind you students that you are going to a great school and that you should appreciate the education you are getting here. It wasn't always what it is now.

It had a great struggle in the beginning. In fact, it almost ended. The students couldn't pay their tuition. In order to do so, the parents would give the instructors produce from the farm as pay and these instructors never did get full pay.

Then in 1956 when Old Main burned to the ground I thought that was the end. But that was just the beginning. It took off like wildfire and it is still growing.

I am proud of it and you students should be also. The education you are getting is much different than when I was here. When I was here it was all book learning. Now much of it is first hand, for example, studying in foreign countries.

Don't take your education lightly. It is the one thing that you can never lose. You can buy a nice car, a beautiful home, you can get a great job and a big salary, you can get all kinds of material and world things. But they can wear out, you can lose them or they can be taken away from you. But your education can never be taken away from you, and it is useful to the very end of your life.

So treasure your time here deeply in your heart.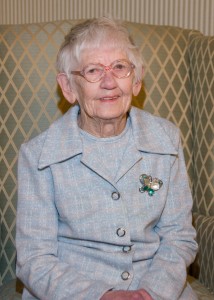 Merle enrolled at Buena Vista College – majoring in mathematics, psychology and education – after graduating from high school at Varina, IA.
After graduating from BVC she found clerical work in the welfare office saving enough to enroll in the graduate program in social administration at the University of Iowa. It was there that she met Leonard and they were married in May 1937.
During World War II, she worked in the chemistry lab at the Rock Island Arsenal and later worked for 25 years at the Martin Senour Paint Co. in Chicago as a chemist doing quality control before retiring in 1972. Leonard worked at Loyola Medical Center and Armour Research Foundation before passing away in 1968.
Merle has been a steadfast supporter of BVU to many projects and programs over the years. On April 2, 2015 she celebrated her 108th birthday and on October 10, 2015 she traveled from her home in Wheaton, IL to celebrate her 85th anniversary of her graduation during the homecoming celebrations.