2016 BVU Senior of the Year Nominees
The finalists for the 2016 Senior of the Year Award are Bonnie Keller, Blake Laursen, Callie Hoffman and Alec Sindelar.
The Senior of the Year Award was first established in 1985 by the Buena Vista University (BVU) National Alumni Association. The award originally started as a project and has become a BVU tradition since. The voting process for the award consists of several rounds and includes a wide range of BVU community members including faculty and members of the senior class. Eligible seniors must have a cumulative GPA of a 3.0 or higher, a leadership role and be part of at least two organizations on campus.
The list of qualified seniors is eventually narrowed until there are four finalists — two males and two females — who are then interviewed by the Alumni Association Board members and the final two Seniors of the Year (one male and one female) are selected. This year's four finalists have completed their interviews with the Alumni Board and are now awaiting the final results for this year's award. Winners are announced at the upcoming Student Recognition Dinner on April 30.
This year's finalists: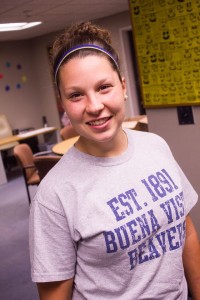 Bonnie Keller is a biology major and psychology minor from Sioux City, Iowa. Keller has been at BVU all four years, and she continued to join organizations on campus to expand her learning skills and experiences. She is currently part of Residence Life, Student MOVE, SAB, SCATE and AWOL. She is also a tutor in the Center for Academic Excellence, and was part of a Leadership Certificate Program in 2015. After graduation, she's heading to graduate school to receive her Doctor of Occupational Therapy at Saint Ambrose University in Davenport, Iowa.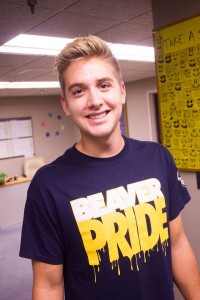 Blake Laursen is from Storm Lake, Iowa, and came to BVU to get his degree in biology, with an emphasis of pre-chiropractic medicine. Laursen has been involved a lot on campus, including residence life, Dean's Fellows, president of Team Wellness, Health Club, and was also a part of a Leadership Certificate Program in 2015. Laursen was recently accepted into Cleveland University's Chiropractic Program in Kansas City, Missouri, and hopes to, in the future, open up his own chiropractic business.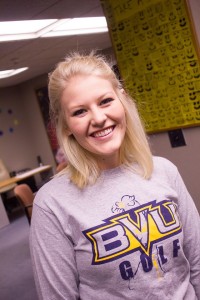 Callie Hoffman came from called Schaller, Iowa. Hoffman began at BVU with plans to be a high school math teacher. But, her plans changed. She is now a business major with a concentration in marketing and a minor in accounting. Hoffman has enjoyed being involved on campus with BV Buddies, Buena Vista Business Association (BVBA), vice president of Advertising and Promotions, as well as Dean's Fellows, Business Club, tutor in the CAE, and an academic assistance. Hoffman has been offered a full-time position after graduation at Mills Marketing in Des Moines, Iowa.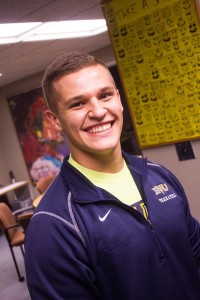 Alec Sindelar came from Winside, Nebr., he is a business major with a concentration in marketing and a psychology minor. Sindelar is an active student athlete as part of the BVU track and field team. Sindelar has also been involved in residence life, AWOL, Dean's Fellows and has volunteered in other outside business organizations. After graduation, Sindelar plans to work at TD Ameritrade in Omaha as a broker.
Photos by Justice Gage