BVU alum and former professor sets American Ironman record
Have you ever made a list of things you wanted to do? If so, have you actually completed that list?
At the age of 16, a young Matt Hanson from Storm Lake, Iowa, was challenged by a mentor to create a list of 50 goals he wanted to accomplish in the next ten years. 9 years, 11 months, and 3 weeks later, at the age of 25, Hanson had one task left: to complete an Ironman race. He had intended on the experience to be a one-and-done type of thing, but the 2007 Buena Vista University (BVU) alum, former professor and current exercise science advisor for university, is now a professional triathlete and Ironman record-holder.
What's more, during his recent race on Saturday, April 22, Hanson not only won his second North American Championship, but he also set a new American record.
Just to put this remarkable feat into perspective, an Ironman Triathlon consists of a 2.4-mile swim, a 112-mile bicycle ride and a marathon 26.22-mile run, raced in that order and without a break.
Hanson has been competing since 2011, but has been a professional since November of 2013. Since then, he has grown and developed himself into one of the greatest Ironman athletes in the world. Going into the North American Championship race in Woodlands, Texas, Hanson's goal wasn't to break the record. However, it was a nice addition to the win.
In preparing for the race Hanson's wife, Ashley Farmer-Hanson, Assistant Dean of Student Life & Director of Civic Engagement, helps him alleviate the stress.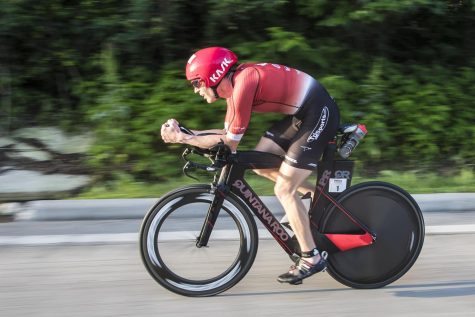 "I do all the little things. I'm the driver; I take care of the luggage and bags, things like that. For example, during the weeks leading up to the race, if the lawn mower breaks, I don't call Matt like I normally would. Instead, I call someone else to come and do it," Farmer-Hanson laughed.
Hanson started training for this race in particular on the first of the year, but added that the race has been on his mind since last November when he raced in Ironman Chattanooga.
"My goal going in was to execute a clean race and just let the results sort themselves out. I wanted to stick to my plan and be ready to go to work," Hanson said.
"The greatest challenge in any race is staying mentally tough, because your mind can go to some pretty dark places, but during this race there were two particularly tough spots," Hanson said. "The first was when I started cramping in the water. I was up with the lead pack, which is somewhere I've never been before, and I was having the best swim of my life. If not for my mental game, I wouldn't have been able to pull through and set myself up for success on the bike."
Hanson was still able to tough it out and execute the best swim of his life, which ultimately was what set him up for the rest of the race.
"The second toughest spot was on the bike. Two strong bikers caught up to me and tried to bait me into pushing the pace, but I eventually was able to drop them; I credit my great swim for allowing me to remain mentally tough in that moment and stick to my race," Hanson said.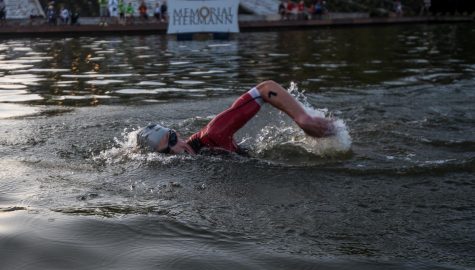 During his transition from the bike to the run, Hanson was in fourth place, 14 minutes and 48 seconds behind the leader. When asked what was going through his mind at this point in the race, Hanson said that he aimed to stay conservative.
"I'm typically one of the better runners in the sport, so just staying disciplined and conservative during the first of the three loops was my goal," Hanson said.
It took almost 15 miles to do so, but Hanson finally overtook the leader, Andrew Starykowiz.
Becoming a professional Ironman athlete wasn't something Hanson planned on doing, but it has now become his passion in life. Being able to have his wife meet him at the end of this race makes it all worth it.
"I can't describe it. It certainly wasn't the life we imagined we were going to have when we got married, and the sacrifices that have been made the last five years by her are unreal; she has been there for all three of my wins, which is something I'll always remember," Hanson said.
If you think that actually physically doing an Ironman would be hard, Hanson's wife claims that being a spectator is almost worse, because while the racer only has to worry about the race, you have to think about a million other things.
"This race in particular was nerve-wracking, because the last time he was on this course, he collapsed. I was so excited to see him come back," Farmer-Hanson said. "I think I was more nervous than Matt was that day. I wanted to throw up!"
Running around to see Matt was quite the adventure as well.
"It depends on the course, but we got to see the majority of his swim, we saw him get on his bike, and then didn't see him again until his transition from bike to run. We saw him about eight times during the run, and probably clocked 15 miles ourselves running around to find him," Farmer-Hanson joked.
In all seriousness though, being a great supporter is a task that she does well.
"He has a timing chip that fans are able to use to watch how he's doing, and I'm pretty good at knowing what's a good time and what's not. I can also tell when other people are fading and compare how he's doing to them. Obviously, you never want someone to get hurt, but we don't mind when his competitors fade," Farmer-Hanson said.
Crossing the finish line with a time of 7 h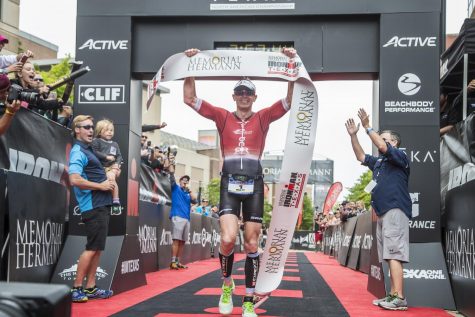 ours, 52 minutes, and 44 seconds, the American record was broken.
"I'm not sure that it's sunk in yet, but it's pretty coo
l. I'm still processing. We've had Americans as World Champions before, so to even be amongst those names is special," Hanson said.
At the end of the day, Matt's inspiration to compete is always the same.
"In order to get through the tough times, you have to know why you're doing it. I've been given a gift by God, and my job is to use it to the best of my ability to honor him," Hanson said.
With his win at the North American Ironman Championships, Hanson has punched his ticket for the 2017 World Championships in October.