New Faculty Profile: Stacy Johnson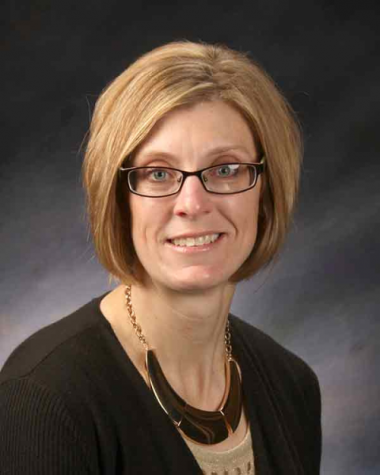 Faculty member Stacy Johnson is a new instructor of accounting and business for the 2017-2018 school year at Buena Vista University.  Johnson originally is from Pomeroy, Iowa,  and still lives there today. 
Johnson received her undergraduate degree from the University of Northern Iowa in Finance and Economics, and her Master's degree in Business and Administration from Upper Iowa University.  She is also a certified managerial accountant (CMA), and "lifetime learner," according to herself. 
One of Johnson's favorite parts about BV so far is the fact that everyone cares about the students.  She feels that everyone is hugely devoted to what they do in their job at BVU, and that no one works at the college just to make a living.  Johnson appreciates that everyone who works here does it for a true genuine purpose. 
"I like the dedication that every employee, faculty or staff has towards BV.  Everybody truly cares about the success of BV and the students.  That really means a lot."  Johnson declared. 
Johnson chose to teach at the collegiate level because she says students actually want, and choose to come to class and learn, rather than being forced.  She was originally afraid of accounting, but as she immersed herself in a job out of college, she found that she absolutely loved it.  Cost accounting is her favorite because she has a true interest in problem solving, working with products, and manufacturing. It gives a final solid answer at the end of the problem. 
Johnson had a job manufacturing as a plant controller initially, then was able to have the opportunity to teach at Iowa Central Community College.  After teaching there, she found that she had the desire to teach at a four year school instead of a two year school because of an attraction to following her students all the way through the four years to the real jobs they obtain. 
Each day, Johnson begins with a five mile run early in the morning, so that she can get the rest of her day accomplished afterward.  Her extremely involved children have to be taken several different places, such as her son needing a ride to weights at 6:00 a.m.  Johnson is a morning person, drinking water and sometimes decaf coffee all day to stay awake. 
Johnson's three kids keep her extraordinarily busy.  She has two boys and one girl.  Dane is a freshman in high school, Brett is a seventh grader, and Jenna is a five year old that has recently started kindergarten.  All are very involved in sports, music, church, and any other activities that Johnson comes up with that they want to do. 
Afternoon and nighttime activities for Johnson include picking up her kids from their activities, and planning work for her classes the next day.  She keeps herself busy all the time, and is not fond of sitting still. 
Johnson runs, as mentioned, and plays volleyball every Sunday night in Pomeroy.  She has done tournaments, and plays all around on the court.  Johnson has also coached baseball, and has coached little kids soccer now for around eight years.  She also camps, plays for church and weddings, and teaches her own kids lessons.  Her own five year old daughter sang in church just recently. 
"My passions are anything that's productive.  I don't feel productive if I sit down and do nothing."  Stacy explains. 
Johnson loves planning, and has even helped organize a plan to raise money to to build a playground/park.  She helped raise $70,000 to build this town park in just six to nine months!  People can now camp there and their kids can play at this place, and Johnson will always remember being a part of building that. 
Pomeray Homecoming Days is also something that Johnson plans lots of different events for.  She wants people to come home for homecoming, so Johnson makes an effort to plan something awesome.  She sets up annual 5K runs, has planned glow runs, organizes slow pitch tournaments, and has even had poker runs (each person receives a card at each stop until they have a poker hand). 
Johnson has participated in the organization of 4H events, silent auctions to provide bikes for the little kids, and many other great events.  She always makes sure that her children are involved in her event planning. 
Other activities Johnson is involved in include being the financial treasurer of the co-op in Pomeroy, church financial secretary, coaching of youth sports when needed, teaching the little kids music program at her own church, part of the fundraising team for 4H, and has even taught piano lessons in the past.