Cheerleader quits team following new policy requiring her to stand during anthem
Madeleine McCormick , Co-Editor-in-Chief
November 8, 2017
Last week, Buena Vista University (BVU) cheerleader Alyssa Parker, sophomore, resigned from her team because of a new policy that requires her, and all BVU student athletes, to stand during the playing of the national anthem, a policy with which Parker disagrees.
Parker is part of a group of BVU cheerleaders and football players who engaged in silent protest by kneeling during the anthem at the Sept. 30 Homecoming football game. Their protest echoed a national movement started by former NFL quarterback Colin Kaepernick, who began kneeling during the anthem in 2016 in an effort to bring attention to racism and social injustices in the U.S. Many other professional, collegiate and even high school athletes have since joined in this form of protest.
After the kneeling at BVU Homecoming and the feedback from community members and alumni that followed, BVU President Josh Merchant met with players and cheerleaders, engaged in productive conversations and issued a statement indicating, "BVU student athletes and cheerleaders will stand for the national anthem as a unified team. However, student athletes and cheerleaders will be allowed to kneel before the anthem if they choose to do so."
Merchant also offered to stand with the students during the anthem as a sign of unity and used the statement to announce a commitment of resources from his office to events and activities that advance the topic of social change. The first event, a panel discussion, was held on Oct. 6.
The next home BVU football game took place on Oct. 21. Parker chose to stay inside Siebens Fieldhouse during the national anthem at that game against Nebraska Wesleyan, instead of standing, or following Merchant's request for kneeling prior to the anthem. However, Parker said she was told following the game, that staying inside the fieldhouse during the anthem would not be an acceptable option on future game days.
Parker said this forced her to make the tough decision to resign as a BVU cheerleader, a position she has held for two years.
In her resignation letter to her cheerleading coach, Whitney Miller, Parker wrote, "Standing for something I know personally isn't right, isn't something I feel should be forced upon me."
Parker said an added reason for her decision to quit the team came from uncertainty about what a failure to follow the new policy might mean. She said there was a potential threat of a student misconduct violation for failing to follow the orders of a school official.
"I wasn't willing to wait around and see what my consequence was," said Parker. "They didn't have any policy on a piece of paper, laptop screen, nothing, to show me what my punishment would be if I chose to keep standing."
Senior cheerleading captain Shelby Pittenger said the new policy had been communicated to the team by Miller before a practice, and her understanding of it was that failure to comply could result in being kicked off of the team.
Pittenger said that the remaining members of the cheerleading team have tried to stick together through the controversy and that they all respect Parker's decision to leave the squad.
"We still are all close, and we respect her for deciding she needed to do this for her personal beliefs," Pittenger said.
Pittenger added that the cheerleaders have all supported one another throughout this, and she as captain has tried to emphasize respect for all choices.
"Something that I've really tried to do as captain is support everybody, no matter what their decision be. When some decided to take a knee and some decided not to, I personally didn't, but I said, 'I will support the girls who do no matter what because I don't know what they've personally been through, and it's not my place to tell them what do.'"
Parker says she attempted to meet with both President Merchant and Athletic Director Jack Denholm to better understand possible consequences if she didn't follow the policy. Parker says Denholm was unable to show her a specific athletic policy she would be violating, but did reference a section in the BVU Student Handbook under "ARTICLE VII. POLICIES AND PROHIBITED CONDUCT." The section reads: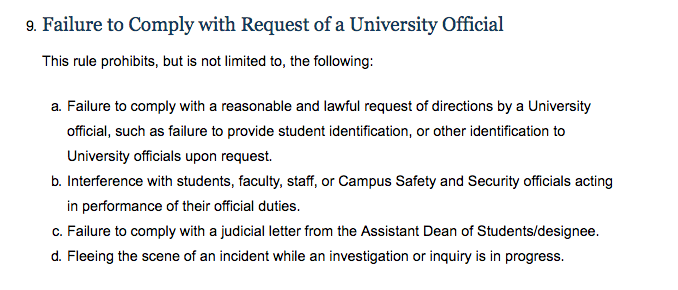 These policies are accessible to all students online as part of the Student Code of Conduct.
Parker says she felt internal conflict, but eventually decided she couldn't allow her BVU uniform to compromise her values. As the President of the Black Student Union (BSU), Parker said she values the importance of impacting her campus community through conversations about social injustice like those being sparked by the protest. She also wants to make clear that she did not quit the team to gain her "fifteen minutes of fame," a criticism of her she says is popular on social media right now, but rather to continue as the President of the BSU without being held under student misconduct.
"It was the same day as Jordan Edwards 16th birthday… His candlelight vigil was the first event I organized on this campus about social injustice, and it just reminded me that this is what I was doing it for. It almost felt right," Parker said.
Edwards was the black, Texas teen fatally shot by police officer Roy Oliver in late April 2017. Oliver has since been indicted on murder charges. Parker helped organize a vigil at BVU in May 2017.
According to Parker, it is still unclear to her why the university consequence for not following the new anthem policy is student misconduct, and according to her, that question was and remains unanswered. She felt she couldn't risk a misconduct violation on her record given the impact it might have on her current campus leadership and future career.
"I felt like everyone was giving me a run around, and I wasn't going to put my organization on the line, academic career on the line, and my future in criminal justice on the line for not being able to kneel during the anthem," said Parker.
When reached for comment, the Office of the President said Merchant "stands by his original statement on the topic and we are continuing to plan educational programming for students regarding racial inequality and social injustice."
The office also indicated that Merchant cannot comment on Parker's specific situation due to FERPA laws, or the Family Educational Rights and Privacy Act. FERPA is a federal privacy law and prohibits university officials from commenting on an individual student's situation.
When contacted for this story, Denholm said he has "nothing new to offer on this topic," and Miller, the cheerleading coach, declined to comment as well.
On Nov. 3 a "Q&A Regarding Kneeling Controversy" was posted on the BVU website. It offers the following as "the University's thoughts on the cheerleader who recently stepped down from the cheerleading squad":
"When students have concerns, it's of utmost importance that we listen to them and attempt to build understanding. Concerns about social injustice are real, and we will continue to listen and support our students as they stand by their convictions. We have amazing students at BVU, and our athletes and cheerleaders are among them. We are proud of our students. We think they deserve the respect to be listened to. While we provided many opportunities for our students to express their concerns, we understand if students want to raise their voice in their own way. It's only when students are in uniform as perceived representatives of the University that we are asking that they remain standing."
Parker says she and her parents have met with Merchant to discuss the matter, but were unable to come to a resolution. Parker hopes her story and her commitment to her values will bring education and change.
"My personal strong beliefs on social injustice are my principles to my core, ignoring those and standing during the anthem is something that is problematic to for me," Parker wrote in her resignation letter. "I have to live with the choices I make, and look at myself in the mirror and know that I made the right choices for myself and what I believe in."
Parker said continues to speak out about her experience in an effort to advocate for understanding and justice. She says this experience has also taught her a lot about empathy.
"I have learned so much about [empathy], and the importance of understanding the other side. Like, how can I expect someone to understand where I'm coming from, if I can't understand where they're coming from," she said. "But we're not done talking about it. There's still more to come."
Monday evening, Parker took to Facebook and Twitter posting a letter addressed to President Merchant asking him to reverse his decision to require athletes to stand during the anthem, arguing the policy does not reflect the institution's standards of higher learning. The letter was signed by the BSU executive board, and several other "concerned students." In the post accompanying the letter, Parker encouraged people to contact the Office of the President and ask for a policy change. Parker offered a mailing address, phone number, and contact email for the Office of the President.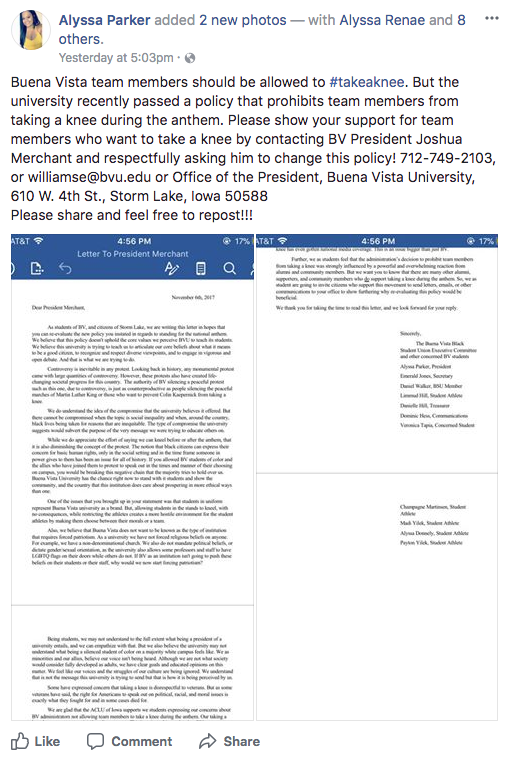 "We believe this university is trying to teach us to articulate our core beliefs about what it means to be a good citizen, to recognize and respect diverse viewpoints, and to engage in vigorous and open debate. And that is what we are trying to do," the letter reads.
The letter also expresses concerns about forced patriotism, silencing of student expression, and more specifically silencing students of color among the broader issue of how BVU reflects the national conversation surrounding social injustice.
"We are glad that the ACLU of Iowa supports we students expressing our concerns about BV administrators not allowing team members to take a knee during the anthem. Our taking a knee has even gotten national media coverage. This is an issue bigger than just BV," states the letter.
Parker's story has reached regional and even national audiences and garnered the attention of the Iowa American Civil Liberties Union (ACLU). Several news outlets have run stories about Parker and her decision to quit, including the national online magazine The Root.  Its story was retweeted on Twitter by Kaepernick himself.
Parker feels the university decision not to allow the protest to continue on the field put her instead in the stands, where she says she will continue to kneel during the anthem next to her peers instead of on the sidelines.
"The President and I will never agree about what is a compromise for this issue because I don't feel like there is one, but that doesn't mean we can't respect and empathize where each other is coming from," said Parker. "I don't know what it's like to be a president of a university, but I feel like he tried to stop this before it got worse, and it did the opposite."
For its part, BVU has stated via the Q&A on its website that the institution remains committed to moving forward with inclusive dialogue about social justice topics.
"We're an institution of higher education, and it's important for us to model civil discourse for the next generation of leaders. We've organized several events on campus that are being formally set aside for these conversations, and we will continue to do so. President Merchant plans to:
 Dedicate his time, effort, and resources to these conversations.
 Actively seek partners in an effort to continue the dialogue statewide.
 Remain focused on BVU educational programming for the future."
Tack News Editor Kylee Deering also contributed to this story.