Who's Who: Carson Rhoads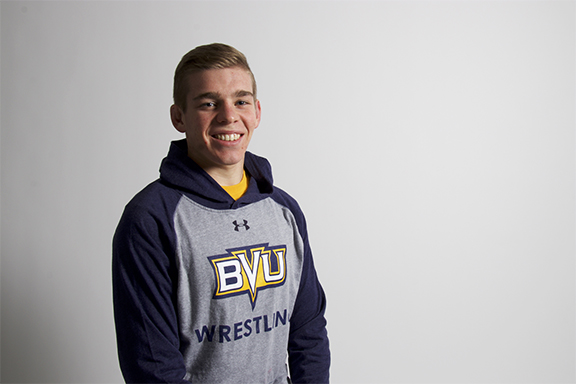 Emily Kenny, Visual Editor
November 17, 2017
Carson Rhoads is a junior from Lansing, Kansas, and a member of the Buena Vista University (BVU) Wrestling Team. Rhoads will be wrestling in the 149-pound weight class this upcoming season.
In the 2016-2017 season, Rhoads recorded four pins for the year which ranked third on the team. Last year he competed in the 133-pound weight class, and had two IIAC conference wins.
Rhoads says his biggest influence to start wrestling was his friend from home, Caleb Ward. However, he says he first fell in love with the sport after seeing his hard work pay off on and off the mat.
"That feeling that all the hard work I put in pays off when you get your hand raised as well as the bonds that I made with my teammates and coaches." Says Rhoads.
Rhoads says his favorite memory from his wrestling career so far was winning a dual against Loras last year in overtime.
The most influential people throughout Rhoads' wrestling career are his high school coach Nick Flynn, and college coaches: Head Coach Jeff Breese and Assistant Coach Sean White.
Looking into the upcoming season, Rhoads has set his goals high:
"My goals for the upcoming season are to start at 149 [weight class], qualify for nationals, and become an all-American once I get there," said Rhoads.
Assistant Coach White, speaks to the dedication Rhoads has put into the sport:
"Carson Rhoads is a natural leader. He puts his whole heart into whatever it is he is doing," said White.
Coach White also has high expectations for Rhoads' upcoming season. He foresees Rhoads having a break-through year this season.
"After putting in two years of hard work, this would be the year we could see Carson step up and beat some he is not supposed to," said White.
BVU wrestling has kicked off their season with meets at Wisconsin-Platteville, and Luther in Decorah, Iowa. Rhoads started off the 2017-2018 season with a record of 1-2. The team will have their first home meet December 2 at the BVU Open.