"Woman Wonder" performances captivate audiences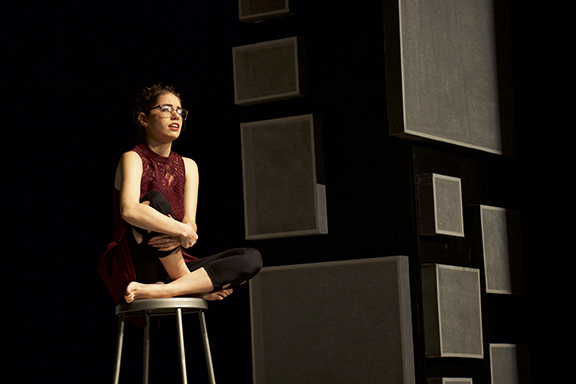 Madeleine McCormick , Co-Editor-in-Chief
November 16, 2017
"Woman Wonder," an original play written by Buena Vista University (BVU) faculty, and directed by Dr. Bethany Larson, transformed the stage of Anderson Auditorium into a platform for sharing women's stories Nov. 16-18.
The self-proclaimed "Wonder Woman Collective" wrote the script as a testament to the experiences throughout girlhood and womanhood. Woman Wonder examines issues of sexual assault and harassment, motherhood, adolescence, relationships and other moments in the lives of women. The series of monologues and choral pieces weave a complex story of how women struggle and persevere. The show is at times hilarious and at others tear-jerking.
The "Wonder Woman Collective" is not a singular-individual led group, nor does it require an application, gold boots, strong whip, or red cape. Rather, the group is a collective of faculty friends and colleagues at BVU from different disciplines who came together to explore the female experience through writing moments from their lives into a script, and finally, onto the stage.
The Collective consists of Dr. Andrea Frantz, Professor Jamii Claiborne, Dr. Wind Goodfriend, Dr. AnnaMarie Formichella-Elsden, Dr. Bethany Larson, Professor Miranda Pollock and Dr. Callie Friesen.
Students who attended the show came to Anderson Auditorium with the idea this play would continue to guide their thoughts about feminism, and perhaps even challenge the way they see the world around them through the stories on stage. They also noticed how the writing of the script together modeled collaboration.
"I thought it was very interesting that there were multiple writers for the play," Megan Rohatsch, sophomore said. "It was neat to see professors from different parts of the school working together."
Some attendees responded to the various viewpoints on being and becoming a woman that are presented in the show.
"It was interesting to hear different stories and experiences from all of the perspectives," said BVU sophomore Sydney Gunderson. "There were parts that were humorous and serious, which made the play captivating to the audience."