Tips for Improving Your Own Cybersecurity
Corey McConnaughy, Staff Writer
December 5, 2017
Hang on for a minute...we're trying to find some more stories you might like.
Earlier this semester, I was in the Center for Academic Excellence when I received an Outlook notification of a since-deleted email directed toward Alliance, Buena Vista University's (BVU) LGBTQ+ student organization. It urged recipients to log in via DocuSign, except they couldn't. The Friday of Thanksgiving break marked another occurrence, but with multiple, suspicious messages from the Outlook accounts of a faculty member and a student, all with the exact same, grammatically incorrect text and disguised link. Four of the emails were sent to all BVU students. Luckily, the security software I use let me know of where suspicious links lead to, so I discovered what the intentions of these emails were without putting my laptop and information at risk.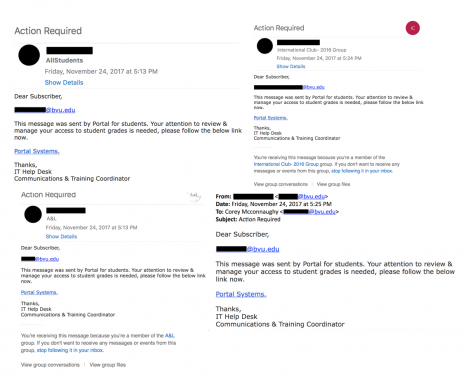 Frantically, I notified BV's tech help desk and repair shop, 2Fix, of the situation. Not too long after, I started to think of ways the school could better combat this problem, and considering how more digitized our lives have become this past decade, there's reason to be worried. If you are, though, I have some helpful notes to keep in mind, and the links provided are nowhere near as sketchy as that phishing bait!
You wear a seat belt while driving and wash your hands with soap, so why not give your computer its counterpart of either? Security software does that and more. If you don't know which suite to get, PCMag's got you covered with their best suites of the year. The one I use, Kaspersky Internet Security, not only wears an "editor's choice" badge, but its starting price is $39.99. In fact, it comes with Safe Money (which protects you when visiting websites with payment features), as well as protection from unauthorized webcam access and website tracking. Other editor's choices are Norton ($49.49) and Bitdefender ($51.99-$58.49). According to the spreadsheet, most of the brands tested come with a firewall and protection from spam, but Norton Security Premium should be up your alley if backup and tuning capabilities are also on your wish list.
"What about my smartphone?" you may be wondering. If you have the new Samsung Galaxy S8 or S8+, the company's website states that their Knox 2.8 comes equipped with "multi-layered security, real-time protection, hardware-based encryption, and worldwide certification." But if you have a different Android, don't pass up the opportunity to install antivirus software. Tom's Guide recently unveiled their best picks, Norton Mobile Security as a "freemium option" and Bitdefender Mobile Security ($14.95), but they also explain why iOS owners shouldn't worry about it because they actually don't need third-party software in the first place. "While iPhones and iPads aren't completely fool-proof devices—especially when jailbroken—the iOS platform sandboxes apps inside of a user partition that limits access to the system." By "partition," they mean "a subdivision of a hard disk," as Apple's Dictionary app defines.
Other things I recommend doing are enabling two-factor authentication (2FA) on websites and in apps that offer it, and installing an authenticator app. Some sites like Twitter also provide you with a backup code in case. Additionally, it's not a bad idea to add the HTTPS Everywhere extension if you like to use Google Chrome, Opera, or Firefox on your desktop or Android. Created by the Electronic Frontier Foundation, it "encrypts your communications with many major websites, making your browsing more secure." For a more general piece of advice, notice the grammar in the email screenshots? That should be the first red flag you see. And if it's from someone or somewhere you don't know, it's best to ignore it or, if you're really concerned, notify 2Fix.
The tips provided are the tip of the iceberg, but I'm hopeful that they will generate campus-wide discussion on improving BVU's cybersecurity. Should the system implement 2FA and stress the use of authenticator apps on Outlook, the crises I experienced first-hand would've been averted. Just some food for thought.