BVU goes to Costa Rica
Hang on for a minute...we're trying to find some more stories you might like.
This past January I had the opportunity to travel to Costa Rica where I was able to take Spanish classes, learn more about the culture, and explore different sights. Before leaving for the trip I was mostly excited to practice my Spanish and for being in tropical weather rather than Storm Lake, but the trip turned out to be far more special than I was expecting. The first amazing part about my stay in Costa Rica was our host families. We all stayed with families in their homes in Coronado and we could talk with them, get to know them, and learn from them. My host family had some of the most generous people I have ever met, and the food was always amazing. After spending three weeks with them, it was very hard to leave and I still miss my host mom, Isabel. Another great experience from the trip was our time with the school. We studied at a school called Académica Tica, which provided us with classes and our excursions during the trip. The professors were able to make the classes fun and entertaining, so even though we were in class for about three hours each day, the time went by quickly.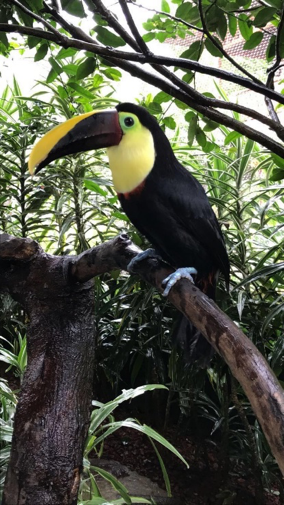 My favorite parts of the trip, by far, were the excursions and all of the nature and wildlife that we got to see. Every day and every weekend we went on amazing trips to all sorts of different places and different activities. Some of our excursions were more culturally based, like visiting a coffee plantation, historical museum, or my personal favorite: a chocolate factory. For other trips, we got to go on more "outdoorsy" adventures like white water rafting, zip lining, and hiking through the jungle while it was pouring down rain. All the adventures were amazing, and I saw some of the most beautiful sights that I've ever seen in my life. Our group went to a national park called Los Jardines de Paz, where we saw stunning waterfalls, toucans, jaguars, and other native animals of Costa Rica. The city where we stayed is located in central Costa Rica, but on the weekends, we went to the coasts and were able to see the beautiful beaches and swim in the ocean. At one of the beaches that we went to in Jaco, we saw many animals up close. There were iguanas running on the beach, raccoons stealing peoples' food, and monkeys playing in the trees with their babies. The ocean had the bluest water I've ever seen and all of it was gorgeous.  
There were two excursions that really stand out in my mind as my favorites though. The first is the Toucan Rescue Ranch and the second is the Irazú Volcano. The Toucan Rescue Ranch works to rehabilitate animals that were either injured or that were being kept as pets illegally. The ranch not only had toucans but all types of birds, as well as monkeys, wild cats, otters, and sloths! The sloths were adorable, and probably my favorite part of the ranch, and we got to see young sloths as well as older ones. It was amazing to see the native animals and how the ranch was helping protect them and keep them safe. My other favorite excursion was the volcano because of how beautiful it was. The volcano was a deep crater with the prettiest water I've ever seen, and the crater was surrounded by natural plants and flowers. Out of all of the amazing sights on the trip, this was by far my favorite, and most memorable to me. We found out that the water within the crater had been dried up for many years, and it was only about six months before we came that the crater had filled up with water again. All of the sights in Costa Rica were amazing and made the trip a real experience.  
I would 100% recommend that students have an international experience during their time at BV. You get to see and learn so much on the trips and make memories that will last forever. Because of my trip to Costa Rica, I was able to learn Spanish, go on adventures, miss an entire month of winter in Iowa, and most importantly, meet new people and make new friends. Before the trip, there were only a few of the students that I knew well, but during the trip I was able to get to know the other students and become close to them. Now that the trip is over, I see the students that used to be just acquaintances as friends that I have a lot of memories with, and for me that is the best part of the experience, and what will stay with me the longest when I remember the trip. Overall, the trip was amazing and if you haven't had an international experience, it should be on the list of things to do before you graduate.