Andre Wagner, NYC street photographer returns to BVU
Deidree Friesen and Emily Kenny
March 8, 2018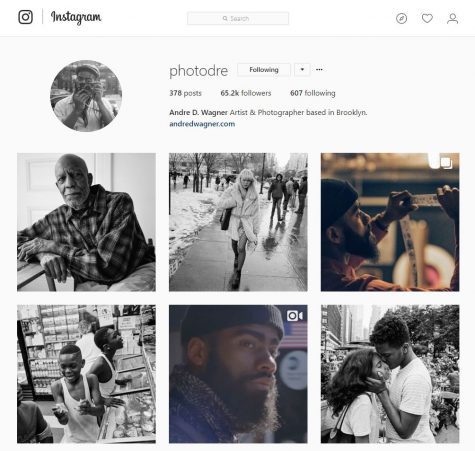 Andre Wagner is a New York City street photographer from Omaha, Nebraska with published works in notable media outlets like, The New York Times. Wagner now lives in Brooklyn, New York, but travels all over the city to, as he would say, "make photos." Wagner graduated from Buena Vista University (BVU) in 2010 with a degree in Social Work. On Monday, March 5, Wagner presented at an ACES event to showcase his work at discuss how he made a name for himself as a photographer.  
While at BVU, Wagner took a photography course as a fun way to get an "easy grade." After the first day, he thought, "What did I get myself into?"
He realized photography took a lot more effort than he was used to, but he became fascinated with the process. When he was a student, photography courses were centered around film photography, teaching students to develop images in the dark room after capturing them.   
Wagner continued to complete his Social Work degree, and when he moved to New York City, he picked up his camera again. With a background in social work and a passion for photography, Wagner asked himself, "What's my responsibility? What's my role as an artist? Do I have one?" 
Wagner started working in a photo studio after his second semester in graduate school to gain more photography experience and gain some money for a place to live. When he was not working in the studio, Wagner made an effort to capture his neighborhood and get to know the community he lives in. 
Wagner was inspired by the city, which made him more interested in street photography than studio photography.
"The streets are my studio," Wagner said.  
Wagner shoots with a Leica film camera which includes a 28-millimeter, wide-angle lens. For non- photographers, the wide angle lens allows him to capture the view of the everyday person. He wants his audience to see what he sees; "the human view."
His camera makes him unique, as many current professional photographers have upgraded to digital cameras. Wagner explains that film is what he learned in school, so he was most comfortable picking up again. When he goes out for a shoot, he's not distracted by the screen a digital camera would provide. Wagner says this allows him to relate to his subjects better because instead of focusing on his camera settings, he is focused on what he's shooting.  
The subjects of Wagner's street photography vary. Some subjects are complete strangers and others are local neighborhood kids. Wagner stays involved in his community, so many of the people trust him and are aware of his profession. So involved, that the kids in his neighborhood will come to his apartment and ask him to come out and play.  
When Wagner goes out to shoot for the day, he walks between 25 and 30 miles, shooting through up to 20 rolls of film. While not all these photos turn out the way he intended, Wagner shoots anything that sparks the slightest interest for him. He decides what he's going to shoot from instinct. 
"The failures teach you a lot," said Wagner.  
A common question asked of street photographers is if they ask permission before taking a photo of a person or group of people. 
"95% of the time I'm never asking for permission," said Wagner. He explained when people know they're being photographed they make an extra effort to look a certain way. Shooting spontaneously gives Wagner the opportunity to capture naturally beautiful moments. 
Since 2013, Wagner published the book, "Here For The Ride," which consists of the images he took while riding the New York City subway for three consecutive years. While Wagner's passion is street photography, he does freelance work and commissions out work for hire. He has done portrait work for different clients and The New York Times.  
Check out some of Andre Wagner's work and follow him on social accounts below: