Sodexo Is about to Cru5h It
The Siebens Forum at Buena Vista University (BVU) will undergo a significant renovation beginning in May with a scheduled completion in December. As part of this remodeling, the forum will gain a restaurant called Sodexo Cru5h (said "Crush Five").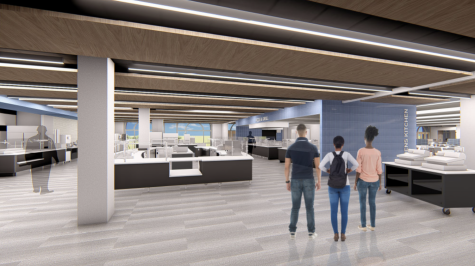 Suzette Radke, Vice President of Finance & Administration, and Ken Allen, General Manager for Sodexo food services said the goal with including a restaurant in the forum remodel was to give students the best opportunity to enjoy what goes into their stomachs as well as have more room for students to hang out.   
Both Radke and Allen say students have lots of changes to look forward to in the forum and the opening of Cru5h is one of those advances.  As a matter of fact, Radke noted that the restaurant at BVU will be the first Cru5h in North America.
According to Radke, the restaurant will accept Beaver Bucks, cash or credit cards.
The restaurant name comes from the fact that it will have a five-core menu which will include:  Fun on a Bun, BAD egg (which is a breakfast item available all day), appetizers, desserts, Mexican menu items, and a rotation station where the special will rotate each week. Other features of the restaurant include beer and wine service during certain hours of operation; however, the restaurant won't include a bar. Radke explained that the exact alcohol operations are still being determined but that alcohol will be available to order.  
Sodexo has continued to focus on healthier options, advancing food quality, and the use of fresh ingredients. Allen said he is impressed with all of the changes that Sodexo will have coming up as part of the renovation.   
"I am very excited with the opportunity to be at BV and be involved in all the changes," Allen said.
Allen said the renovation also includes expanding the dining area and cafeteria for students, which will create a better hangout space and give students more options to choose from.   
"It also will be a more inviting atmosphere for dining," Radke said. "There will be more options for the students in the residence dining program."  
The new area will create a higher potential for social gathering as students will have access to televisions and plenty of seating areas. Other changes with the student dining include creating a better traffic flow, as well as having more options in the servery for students with special dietary needs.   
"The grill will be included into the new serve. We are centralizing a better traffic flow with a combined enhanced salad bar and deli," Allen said. "We are adding a 'My Zone' which is an allergen-free station, and the grill area will be expanded to be a grill, pizza, and pasta station."  
The hours of the Cru5h restaurant are still being determined, but currently Radke says it will likely be open 11:00 a.m. until 11:00 p.m.
Outside of the restaurant Sodexo plans to expand their current meal hours by keeping the serve open 30 minutes later than now and will open 30 minutes earlier than usual. The new evening Sodexo hours plan to be 5:00 p.m. to 7:30 p.m.  
Radke the hours expansion is "to help accommodate our students who have practice schedules, student teaching, work schedules, etc."  
Radke and Allen emphasized that much of the information they have now is preliminary. While many decisions have been made, full details aren't complete and other changes could occur before the renovation is complete.
They plan to have a grand opening of Sodexo Cru5h in spring of 2019.  
Both Radke and Allen urged students who have questions regarding the forum Sodexo changes to contact either of them via email at [email protected] or [email protected].   
 Images courtesy of University Marketing & Communication