BVU Fall Sports Kick Into Gear
Hang on for a minute...we're trying to find some more stories you might like.
With the new fall semester comes the beginning of Beaver sports. Hundreds of Beavers will begin to balance books and athletics this fall and will try to continue the excellence that is Buena Vista University athletics. The teams in action are football, volleyball, men's and women's soccer, women's golf, and men's and women's cross country.  
The football team, under the watch of second-year head coach Grant Mollring began their 2018 campaign with a stellar start, winning a 39-27 victory over Hamline University. The win was led by senior quarterback Cole Miller. Miller, a third-year starter, is fresh off a 2017 season in which he set nearly every single game and single-season record in BVU history. The first game of the new semester showcased an offensive masterpiece, with a refreshing variety of rushing to compliment BV's heavy air attack. The Beavers will be on the road for their next two games, beginning with Concordia University in Nebraska on September 8, aiming to win two in a row to kick off the season. 
The volleyball team kicks off their own season with a brand-new head coach, Aubrey Havlichek. Havlichek played four years of collegiate volleyball at Michigan Technological University and is in her third season as a head coach. The Beaver's bolster an exciting lineup of power, speed, and experience. Buena Vista has five returning starts suiting up this season, including four seniors. The quartet of seniors – Serena Sandvig, Brooke Runneberg, Kylie Roe, and Summer Goss – have dominated the IIAC during their time at BVU and will look to do the same in their first season in the newly branded American Rivers Conference.  
Women's soccer hits the pitch this fall looking to make a statement in 2018. This year's roster is jam-packed with upper-classmen, a first in a handful of years for head coach Sheena Van Roekel. The squad has seven seniors and seven juniors, many of which are fresh off the impressive 2017 season.  
The men's soccer team also has its fair share of upperclassmen. Like the women's squad, the men have 14 upperclassmen and plan to use their experience to their advantage heading into the 2018 season. To balance the roster out, head coach Ben McArthur also has a plethora of impressive underclassmen who showed out last season. 
Women's golf hits the links this fall as well. The squad will look to continue to build on what is viewed by many as progress from last season. The Beavers will have to replace the void of the impressive Emily Kim following her senior season. Former women's basketball coach Janet Berry has taken the helm of the golf team and will look to translate her immense success in basketball to the golf course.  
Cross country is also ready to get underway for their fall season. The storyline for the men and women is very different. The women's team is headlined by three seniors—Tara Harris, Katie Puls, and Elena Vahnenko—all of whom have already made names for themselves in years prior.  They are complemented by a pair of juniors, Emily Hoesing and Maya Rowe, who are coming off exceptional 2017 seasons. The veteran presence is expected to carry the Beavers to high heights this season. As for the men, the veteran presence is much smaller. For the second year in a row, the men's team will have no seniors, with the most experienced members of the roster being two juniors, Zach Kenny and Alex Loerts. The key to watch for this fall is how the team's lack of collegiate experience could affect their success.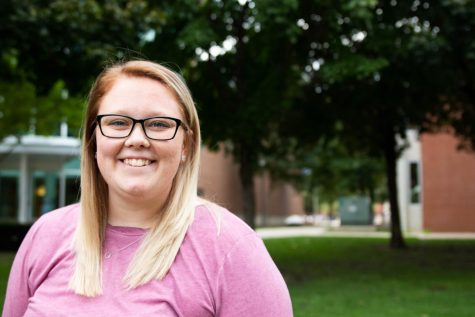 Allie Hartman, Sports Photographer
Hey Guys! My name is Allie, I'm from Storm Lake, IA, and I am the Sports Photographer for The Tack and an occasional writer! I am a Senior Strategic Public...