Buena Vista University Hosts 6th Annual Unified Sports Day 
STORM LAKE, IOWA – Oct. 8, 2018 – On Oct. 8, students from Buena Vista University (BVU) teamed up with Special Olympics Iowa to host Unified Sports Day. As the sixth annual event held at BVU, students and staff worked together to promote social inclusion through shared sports experiences. 
Education instructor Jessy Smith and the 18 students taking her Adaptive Physical Education class organized the event. From 8:00 a.m. to 2:00 p.m., students gave up their own time to volunteer and interact with over 100 Special Olympics Athletes from northwest Iowa.  
Located in the Lamberti Recreational Center, volunteers worked with Special Olympic athletes to create new friendships, improve self-esteem, and promote positive changes in attitude, behavior, and performance. 
"It's a day dedicated to promoting social inclusion through sports, training and competition experiences. It creates an opportunity for people without intellectual disabilities to take part in activities alongside athletes with intellectual disabilities," said Smith.  
During the day, athletes and volunteers rotated in groups through stations. At these stations they engaged in activities such as basketball, football, baseball, bowling, Bocce Ball, and volleyball. By immersing themselves in these games, all participants left with an arsenal of lifetime activities they can play the rest of their lives in their homes and communities.   
This year, over 100 volunteers registered to help the day run smoothly, which is an increase from previous years. Smith credits a good foundation and positive experiences as reasons for why athletes keep coming back. 
BVU sophomore Lincoln Rock was one of the many individuals who helped out with the day. Reflecting on the event, he feels that people often overlook those with disabilities, and so it was fun to make them the stars of the day.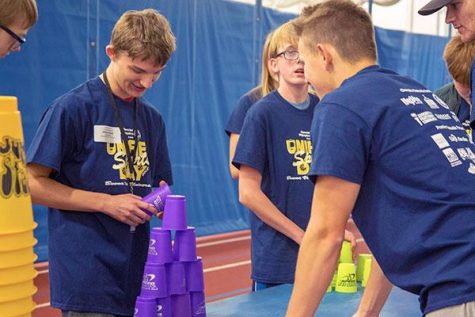 "I love that it is called Unified Sports Day. I think many of us don't realize how much we all have in common," said Rock. "Ultimately, everybody desperately needs love and acceptance, and I think Unified Sports provided that for the day." 
Special Education Instructor Erica Boettcher, a third-year volunteer, thinks this year went very well. 
"Jessy Smith did a great job!  It was very well organized. We heard many great comment, and participants were asking if they could invite others next year," said Boettcher.  "It is nice to have such a wonderful community to work in and participate with, to improve the lives of people with disabilities within our society." 
Ultimately, through building on different aspects of being an athlete and providing social inclusion, this event changes one's perspective on life. Because of this, Smith hopes to involve more of the Storm Lake community in the future. 
"I want this to grow in the future. It would be nice to get more community members to help volunteer as well in order to make it a community event, because most of our volunteers are our students here on campus," said Smith. "This is an awesome event that we are able to host, because it makes so much of an impact for students." 
For more information, contact Jessy Smith at [email protected]