BVU Mentorship: Supporting First-Generation Students
For first generation students and students of color, the transition to college life can be difficult; the BVU Mentorship Program aims to change that this academic year and beyond.  
Parents of first-generation students tend to provide guidance for young adults pursuing their degrees, but most of their guidance comes from the on-campus community.  It can be nerve-wracking trying to get through the college experience while dealing with academic pressures that only first-generation students relate to, which also becomes overwhelming. The BVU Mentorship program aims to change that, bringing mentors in for support to show students around campus, get them accustomed to college life, and help them not feel alone. According to Joanna Chavez De Leon, Assistant Director for Diversity & Inclusion, the BVU Mentorship Program "Aims to help students thrive at BVU through peer mentorship, academic support, social engagement, and leadership opportunities."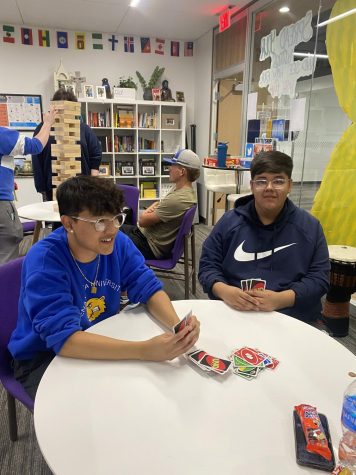 The mentorship program focuses on targeting first generation students and students of color, matching these mentees with student mentors who are able to help and have experience on campus at BVU. Alex Martinez described his responsibilities as a mentor and said his job is to, "connect mentees with on-campus resources, campus events, educational opportunities, and community engagement."  
Chavez De Leon described mentors as needing to have time to support mentees and fulfill mentor requirements, which include weekly one-on-one meetings with mentees, showing them around campus, being there for support, and accompanying educational services such as the Plunge. "Mentors are someone you can rely on and count on right before classes start," said Chavez DeLeon, as mentors and mentees arrived a week before classes started to connect.  
In addition to these weekly meetings and support, mentor students also plan social events throughout the year. Social events can range from movie nights to eating lunch in the Center for Diversity and Inclusion (CDI). Martinez noted that they put together events "to connect with other students on campus as well as community service events to connect with the Storm Lake community." 
The BVU Mentorship Program was started by Dr. Heather Black, Vice President for Student Success, who has been in her position for a little over a year now. Chavez De Leon said, "The mentorship program was started while "looking more into retention and closing the gaps for those first-generation-students, students of color, or even lower-income students." She added that student mentors offer a different voice to the first-year experience. "Students here are not hearing it from us [staff and faculty]. They're hearing it from another peer, and sometimes you tend to lean more towards hearing it from someone that's closer to your age than listening to someone that's older."  
The BVU Mentorship Program helps students, both mentors and mentees alike through bonding with the hope that mentees come back as mentors in the following years. Chavez De Leon said, "[The program is] still new but just within the first week of getting to experience and getting to see them walking together, I hope they continue to build not just within the mentorship program but like a friendship where they can count on each other."  
And the staff in Student Success are already seeing the effects of the program.  Chavez DeLeon said, "One of our mentees asked, 'Am I going to be able to do this next year and become a mentor?' And it's obvious that's what we're hoping, that our mentees will come back on board next year and become the mentors for our new incoming mentees."  
Mentees interested in the BVU Mentorship Program that are interested can email Chavez De Leon ([email protected]) or Brianna Pounds ([email protected]). Students interested in being a mentor should look out for BVU Mentorship Program promotion next semester, as interviews will be held in Spring 2023 for the 2023-2024 academic year.