Kyle Miller: Moving Up the Ranks
The end of the Buena Vista University cross-country season has settled in after the NCAA Regionals performance last month for Junior Kyle Miller, who has high expectations for the upcoming track season. As a collegiate athlete approaching his third track and field season, he has become a role model amongst the distance runners. At the end of Spring 2022, Miller officially became a team captain amid the crucial months of summer training. From beginning to end, team results did not come unexpectedly for Miller when competing against teams in the American Rivers Conference.
He remains hopeful for every opportunity given to improve on their collective and personal goals. Throughout his first year with adaptations to competition in the 8k, Miller crossed the finish line with a best of 28:03 as a Beaver but was not satisfied yet. He made successful strides during his sophomore year, with a school record-breaking time of 25:38 at the 2021 NCAA Midwest Regionals. This year, again, Miller broke his personal record with an improved time of 25:05 at the Platte River Rumble in Ashland, Nebraska, on Oct. 14. Head Cross Country Coach, Coach Orlow, commented on Kyle's growth throughout his collegiate years by saying, "Kyle leads through his work ethic and by example. He is always putting in maximum amounts of effort when it comes to workouts and tries his best to push his teammates to get better along with him."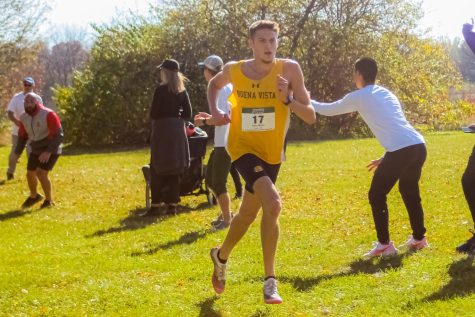 Miller points back at Coach Orlow for this recent success when mentioning, "Coach Orlow has been an instrumental piece to my success so far and I could not be more thankful for the role model he has been for me since my time here. From being the guy that trains me and writes my workouts, to the guy that is just there for me to talk to." 
Miller was not only working to exceed his own expectations going into the season, but he also continuously expressed the high aspirations he had for the team. With hopes to place 5th at the conference meet in Indianola, Iowa, this would have been the first time the BVU Cross Country team met this accomplishment since the conference meet back in 2006. He believed this goal was within reach because of the talent they had brought in from recruitment and every returner who had already been heavily improving throughout the years together. Although the men's team fell short of this mark with a top-six placement this year, it was still something that had not been done since 2006. Kyle led the way for the men at the ARC meet (and for the entirety of the season) with a finish of 25:51. That placing put him only 2 places behind an All-Conference finish as well.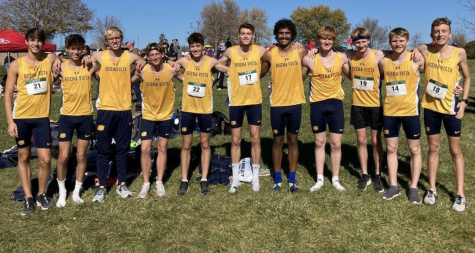 With his sights set on the track and field season, he will get a chance to compete with the rest of the team at their first official meet only a little over a month away. "This upcoming year in track, I have set sights at numerous school records both indoor and outdoor! I am also shooting to move up as much as I can in the conference. After coming off a successful cross-country season, I want to carry the momentum from that and translate it to track. Along with that, I want to continue motivating my teammates to help them be the best versions of themselves." 
 The Beavers will be heading to Crete, Nebraska, on Jan.14 to start their indoor track and field season. The men's team looks to improve on their seventh-place finish during last season at the conference meet while the women's team looks to top their 5th-place finish for indoor.