Now in the Gallery: Frogman Press Prints
April Allen | Arts & Life Co-Editor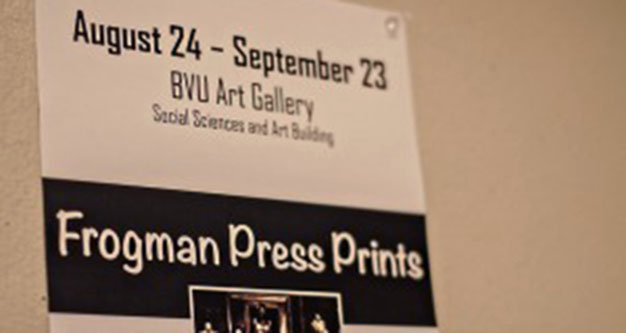 The press prints currently located in the Social Science and Arts (SSA) building are on loan from one of the "largest printmaking intensive workshop[s] in the world": the Frogman Press Prints.
The Frogman Press Print Workshop was founded by Lloyd Menard in 1981 and then by the Frogman Press Print Press & Gallery in 1994. Mary Mello-Nee, Associate Professor of Art at Buena Vista University (BVU), was Menard's graduate teaching assistant while she attended the University of South Dakota (USD). She enjoyed her time working with Menard.
"One of the great things about being a printmaker and being a part of print workshops is the tradition of a print exchange," Mello-Nee said.
She goes on to explain the nature of a print exchange as an event where printmakers come together and agree to make original prints. The best part comes at the end of the event where the printmakers exchange their works.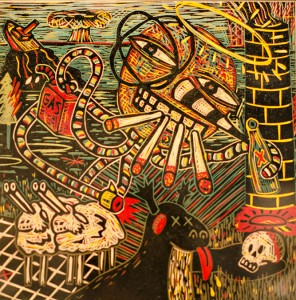 The items in the Frogman Press Prints collection are an assortment of different prints from different artists and locations. Bryan Hays, a senior art major, and Katie Van Zante, a 2011 alum, picked out the pieces from Menard's collection.
"I expected it to take twenty minutes to go through and pick out the prints for the show, but a couple hours later I was finally finished," Hays explained.
Hays worked with Menard last summer on a two week intensive program and received class credit for it. Hays was so inspired that he decided he really wanted to bring a print show to BVU. He worked with Mello-Nee to make this dream a reality.
Hays said Menard owns about 7000 different prints. Menard acquired them all from loads of students and colleagues. This is a professional show with works from an artist external to BVU, which is what Hays finds to be most important and unique about this show.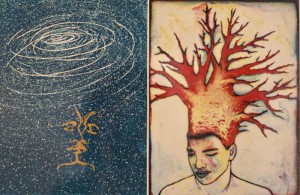 "This show provided inspiration and gave students motivation to try and get to that sort of professional level because all the prints are really nice," Hays said. This show was intentionally brought in at the exact time the Woodcut and Oak Binding course is taking place at BVU.
Mary Mello-Nee has 30 years of print workshop experience, and she knew Menard would have great prints to choose from. Mello-Nee and Hays hope to bring more shows from outside BVU to the school in the near future.
To see more images of artwork found in the gallery, please visit BVU's website.
Photos by Makensie Brown
[nivoslider id="4170″]