Style Your Sole spreads awareness for A Day Without Shoes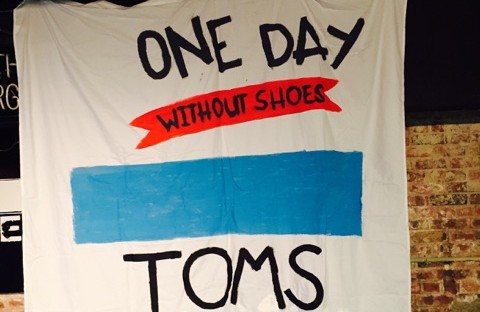 Madeleine McCormick
April 29, 2015
Madeleine McCormick | Assistant News Co-Editor
Buena Vista University's (BVU) Student Activities Board (SAB) has kept busy this month as they plan all of the fun and free events for students on campus. This week, however, SAB hosted an event sharing in significance with another campus wide event to raise awareness for the A Day Without Shoes campaign.
Partnering with the Student M.O.V.E. A Day Without Shoes campaign, SAB hosted an event called Style Your Sole. The event was held from 7-10 p.m. in the Underground on April 28. Supplies for decorating, as well as snacks and most importantly the shoes, were made available to students in the Underground to encourage participation.
This event encouraged students to purchase a discounted pair of TOMS shoes in order to decorate them as they please. If students chose not to purchase a pair of shoes, they are encouraged to bring anything else they wish to decorate for no cost to them whatsoever.
The partnership with Student M.O.V.E. encouraged students to sign a pledge saying they would go one day without shoes. The students who do so are then asked to attend the Style Your Sole event to raise awareness for the lack of shoes in impoverished third-world countries.
Director of Student Activities and Leadership Development and faculty advisor for SAB, Becka Neary-DeLaPorte, says although most SAB events are free, it is important to remember the cause being supported when purchasing the already discounted pair of TOMS.
"If you're an intrinsically rewarded person, its knowing that you're doing something good," says Neary-DeLaPorte. "It's a feel good kind of benefit [from the event]."
Neary-DeLaPorte says that SAB and Student M.O.V.E. decided on TOMS because of their previously existing One for One campaign and also because the Style Your Sole is originally a TOMS event hosted on the BVU campus.
Nationally, the A Day without Shoes campaign is held in May, but considering the national event will be held when classes are no longer in session, a decision was made to change the date to April and host BVU's own event.
With every purchase of TOMS shoes, another pair is donated to someone in need. Not only does the company donate shoes, they provide medicine, clean drinking water, and other health benefits such as a safe birthing environment and eye exams for people living in impoverished countries.
The event is not something BVU has never seen before, however, this was the third year of Style Your Sole and the partnership with the A Day without Shoes campaign. Collectively, SAB and Student M.O.V.E. alike are hoping to continue the event in the future, considering it biannually instead of annually in order to raise participation at each event.
Last year, the member in charge for Style Your Sole was sophomore SAB Promotions Executive, Matt Schulz. He agrees that the purpose of the event is not only to purchase a discounted pair of shoes and decorate them for free, but to raise awareness about poverty in the United States and third world countries alike.
"[The event] offers service, giving back, and supporting a cause," says Schulz. "We aren't just buying a mason jar from Walmart to paint. There's a lot more emotionally involved with these shoes."
Photo by Stephanie Steiner