Boston to attend the London Academy of Theatre and Dramatic Arts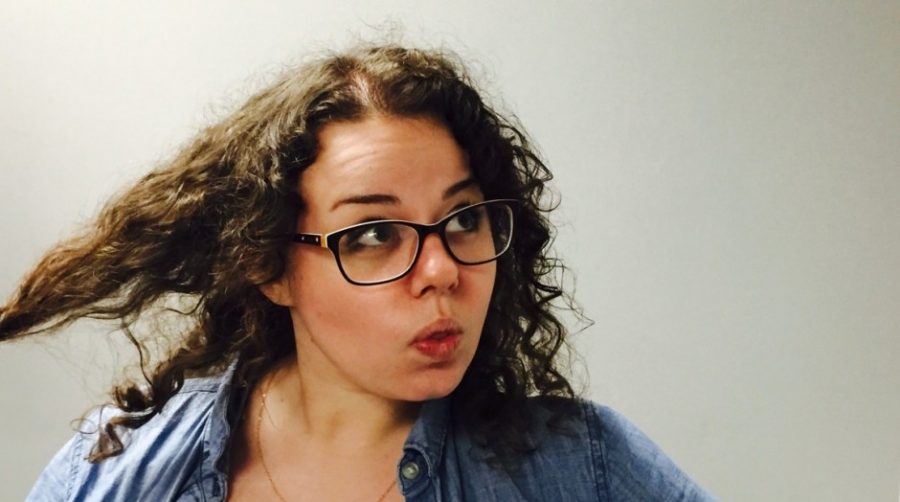 Madeleine McCormick
May 13, 2015
Madeleine McCormick | Assistant Co-Editor of News
Claire Boston nervously approached the Alburnett High School auditorium stage to audition for the Coffee House Variety Show. She was auditioning for a solo that she did not know would kick off her musical theatre career and spark her passion for the theatre.
When Boston began to sing, the microphone cut out, hindering her chances at a fair audition for a solo. However, through her natural ability to perform, Boston did not let this minor inconvenience threaten her audition, and she continued to sing. Her voice carried through the large room, and her director saw the huge potential in this small-town Iowa girl.
Boston, a junior theater major from Alburnett, Iowa, will be traveling to London, England, for the upcoming fall semester to attend the London Academy of Music and Dramatic Arts (LAMDA). She was accepted into the semester of classical acting diploma course at LAMDA, which she has been hoping for since she was five-years-old. It has been her dream to attend this school, because of the outstanding reputation. Among the LAMDA graduates are the award winning actors John Lithgow, Bennedict Cumberbatch and Jim Broadbent.
Even though this is an extraordinary achievement, Boston kept her application process a secret from everyone except Associate Professor of Theatre Dr. Bethany Larson. However, this isn't the first time she's kept her interest for pursuing acting a secret.
Boston has always had a passion for acting. At a very young age, she found herself embodying and portraying different characters in her day-to-day life.
"I have traced the thought [of being an actress] back to when I was four-years-old, but I knew it existed before then," Boston said.
Although her personality has always been outgoing and bubbly, Boston didn't see acting as a realistic goal for herself.
Boston remembers vividly, to the date, when she told her mother she wanted to be an actress.
"It was the night I needed to decide what college I was going to, because that's when stuff was due, so it was April 30, 2013," Boston said. "I came out to my mom and I said, 'I wanna act! That's what I wanna do with my life!' And she's like, 'Well, why the hell haven't you told me this before?'"
She then explained to her mother the pressure she had been facing the past few months. Her father had a specific career plan set for her future, and Boston didn't think she could deter from this path. Surprised that her mother would be so supportive of her decision to attend Buena Vista University (BVU) and become a theatre major, Boston set out to do just that.
Almost immediately, Boston was cast as "Phoebe" in BVU's production of Shakespeare's As You Like It. She has continued to star in college productions and take as many acting and theatre classes as possible. She hopes to further her acting career and do some, as she calls it, "intensive actor training" at LAMDA as well as grow in her personal life.
The courses she will be taking at LAMDA include four module courses: acting, movement, music, and voice. The acting course employs Stanislovskian and Alexander techniques, which are focused on creating the truest human performance.
Boston says she is most excited for the movement classes.
"The one I'm really excited for is stage combat because I get to learn how to use a sword," said Boston as she laughed, her face lighting up with excitement.
She will also be learning how to use her voice in ways that enhance her performance without harming her vocal chords.
In addition to learning new things at LAMDA, Boston has a lot of prior knowledge to offer the school and will be bringing a multitude of different talents from the things she has learned while attending BVU. Boston says she learned the most about acting and movement right here on campus in her classes taught by Larson. She learned the most from a technique called "mask work," in which Boston had her "Eureka!" moment.
"We, our bodies are but a shell. Claire is the one that's in control, but you get to kind of, when you're performing step aside and let something else, I would say, the spirit of a character, kind of, take control of the body," Boston said.
Larson has much to say about Boston as an actress, but more importantly, as an artistic individual.
"Claire is special for so many reasons, just as a human being. But in the theatre arena, Claire is an actress who will try anything. And she will give more effort and more commitment to anything you've asked her to try than anyone I have ever known," Larson said.
Larson describes Boston as one to take risks, even when those risks end unsuccessfully. This was Boston's biggest fear when applying for LAMDA and the reason she chose to keep it a secret. However Boston's successes continue to humble her, and she is excited to begin her journey in London this upcoming semester.
"I know I'm going to be challenged in ways that I never thought possible when I get there, and I'm really excited to see what that's like," she said. "I'm also terrified, but I'm really just willing to embrace and accept the challenge that LAMDA will present to me."
Photo by Justice Gage