Tyson-Jay Domingo | Staff Writer
On Friday, May 8, seniors Cassie Forsyth and Krystal Schulte both erected their milestone projects in the Buena Vista University (BVU) art gallery located in the Social Sciences and Art building. For more than a year, these two students have been working to conceptualize and finalize a project that would test their creativity and knowledge before they embark on their lives as professionals in their prospective fields.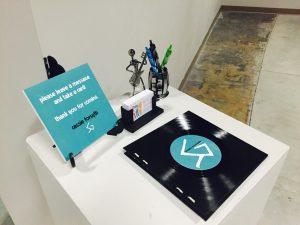 Forsyth, a Graphic Design and Digital Media double major, has put up a show that showcases her dreams and aspirations in the professional world.
"This show is really a way of packaging everything I want to do," Forsyth said.
The untitled show definitely packages many different forms of media, and the most prominent feature of Forsyth's show is the fact that it is based on something she values deeply: music. The combination of art and music is what drives Forsyth in her pursuit for a life-altering career.
Across the gallery is Locution by Schulte, also a Graphic Design and Digital Media double major minoring in Art. Choosing a title for her show came easy and she discovered the perfect term with locution simply meaning "verbal expressions." Schulte's goal for the show is to express the verbal isms, or wives tales, that are prevalent in our culture among others. What inspired the idea for the show was Schulte's experiences and curiosity for isms.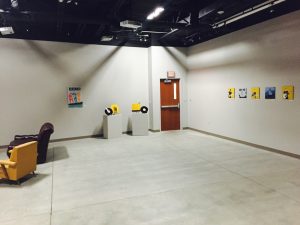 "I thought, 'I wonder if people see this in their head the same way I see them in my head?'" Schulte said.
Coming up with the ideas for their shows was a complex process. For Forsyth, creating a senior show has taken a lot of knowledge that she has gained from her courses in graphic design and digital media. It has also made her realize her focus for an ideal career and has brought her closer to Liberty Hall Collective, a band that was started on BVU's campus by students Chase Harrison, Brett Pongratz, and Kamron Warden. Forsyth built her senior show around the making of Liberty Hall Collective's newest upcoming album Lights, due to debut in June. The show consists of a vinyl record, a vinyl record sleeve, five lyric sheet inserts, a movie poster, and a 34-minute documentary.
Creating the documentary was one of the challenges that Forsyth faced in the way that she has never dealt with a video project this massive. There were many learning curves that she needed to steer, including the recruitment and management of an audio and video crew to assist her in recording the interviews and B-roll needed for the documentary. She also needed to polish her own skills because she had to train the crew in jobs they weren't comfortable with. One of Forsyth's goals was to also mentor underclassmen that wanted experience in video production.
"I wanted to give younger students another opportunity to learn video. With Zach [Schmidt] and Chelsey [Goetz] gone, there weren't many UCN [University Cable Network] productions for them to help out with," Forsyth said.
In one way or another, Forsyth's show has already had an impact on many students at BVU, and she consistently strives to show that her passion is what drives her success.
Schulte's senior show was more independent with the way she created it. Locution has pushed Schulte to explore new mediums that she has never worked with before. She experimented with art that dealt with photo transfers, encaustics, and even working with the carving of plexiglass. Schulte described the creation of Locution as a new experience.
"It's new in the fact that I've used different mediums that I'm used to," Schulte said.
For Schulte, the whole process of creating her pieces was like muscle memory. She had to think of the concept, create a plan, and of course execute it, but what she was creating was what made creating the show different. It was also a new experience coming up with multiple prominent pieces that were to be connected in some way that wasn't easily recognized. Her show consists of three mixed-media pieces and two animations that depict her interpretation of certain isms.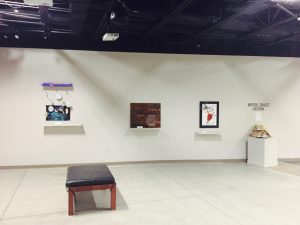 Both Forsyth and Schulte are very excited to have their shows up for people to see, but they are also excited for the audiences' reactions. Having worked so closely with Liberty Hall Collective, it's clear who's reaction Forsyth was the most excited for.
"What I am most excited for my show is Liberty Hall Collective's reaction to it. It was such a pleasure working with them," Forsyth said.
For Schulte, it was more personal.
"I think it'll be fun to see the reception and how people react to the pieces, but I'm also really excited to be done. It shows that I'm done with this stage of my career and ready to move on to my next big project," Schulte said.
Though both shows have allowed these creative the chance to grow and explore, their work doesn't stop at the opening of the exhibition. There will be an exhibit reception on Saturday, May 16, 2015 from 2-4 p.m. where viewers can mingle and talk to the artists about their pieces. Please join them at the reception as they close not only their senior shows, but also their journeys as BVU students.
Photos by Justice Gage