Resources to help you become a successful student at BVU
Dee Friesen | Arts + Life Editor
"I think a big key is figuring out early on what you need to do as a student personally to be successful and to take it seriously and to not give up." – Mark Shea, Director of Student Success.
Sitting across from Mark Shea, he began to spill on what it means to be a successful student at BVU.
Be prepared to make the transition from what you're used to. Whether that's high school, a different college, living with your parents, or living on your own. College is much different than anything else you've ever experienced. All colleges are different, so even if you're a transfer student, there are certain things that are unique to BVU.  I agree with Mark Shea when he said, "I think a lot of students underestimate what that change will be like." You're immersing yourself into a brand new environment surrounded by people you might not know. No matter what your situation is, try to be open-minded and ready for the life changes that are coming your way.
BVU provides us with so many helpful recourses, so be mindful of them. Mark Shea helped me break them down so we can take a better look at what these resources are.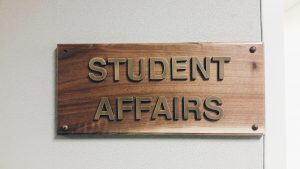 Mandy Boothby is the counselor on campus. She helps a lot with relationship issues, anxiety, homesickness, eating disorders, and mental health.
Tami Laursen overlooks health services. Health services helps with managing sleep, stress, healthy eating, healthy living, and sex education. Their office is where you can sign up to sit in a massage chair for a bit and feel the stress exit your body.
Donna Musel overlooks the Center of Academic Excellence. You can get tutoring for almost any subject for free at the CAE. If you are in a class that does not offer a tutor, talk to Donna Mussel and she will find someone to help you.
You can also seek advice from your professors. Your professors care about your education and about your success. Don't be afraid to go to them for help. If they can't help you, they will point you towards someone who can.
Another option is to seek out upperclassmen. It's nice to have a friend that has been at BVU for a little bit longer and might know more about this campus that you do.
Mark Shea is always a great place to start if you are having trouble finding where you should get help.
As our conversation came to a close, Mark Shea left me with great advise for students. "If you want to be successful in college, there are basically three things you need to do. Go to class, be prepared, and do the work."
Photos courtesy of Dee Friesen.