Humans of BVU: Professor Yuriko Togashi
Name: Professor Yuriko Togashi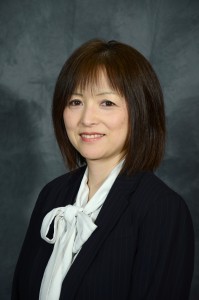 Years at BVU: 12
Teaches: Japanese language + culture
Hometown: Sapporo, Japan
Have you ever been interested in learning a foreign language? Maybe you already speak multiple languages fluently or are in the process of learning one! Language and culture are exciting subjects. They can help you connect with the growing community of diverse students on campus. Learning a new language could also help you in your travel endeavors. If you take the time to study a culture and their language before you visit the country, you may find it easier to completely immerse yourself.
Professor Yuriko Togashi moved to the United States from Japan in 1998 to go to school. She started at University of Nebraska and then transferred to South Dakota State University to finish her master's degree in communication studies. She then went on to Bryn Mawr College in Pennsylvania to finish a training course in order to teach Japanese as a foreign language. Togashi then found a job opening at Buena Vista University. She applied in 2003 and has been teaching here for 12 years.
"I wanted to help people learn Japanese. I wanted to use my knowledge and experience from both Japan and the United States to help them improve their Japanese," said Togashi.
Togashi shared that a big difference between Japan and Iowa is the food. She usually makes traditional Japanese meals at home with groceries bought from the local Asian markets.
"Once in a while I'll eat steak. I especially like Iowa's steak with corn and mashed potatoes," said Togashi.
Another difference Togashi noticed when she moved to America was the people and culture. The people communicate with each other differently. For example, it is common in Japanese culture to ask someone you just met how old they are. This helps find the proper way to address them. Here in America it is almost considered rude to ask someone's age. It's not a very common occurrence.
Togashi has experienced a lot of cultural change moving all the way from Sapporo, Japan to Storm Lake, Iowa, but she has kept her Japanese heritage close to her heart. It is obvious that Togashi enjoys teaching students all about Japanese language and culture.
If you are interested in taking a Japanese language class, Spring semester 2016 will be your last chance. I would encourage any student who is interested in Japanese language and culture to meet and talk with Professor Yuriko Togashi. She is very kind and loves to teach and learn!
Graphic by Justice Gage
Photo courtesy of Professor Yuriko Togashi