Healthy Hints: Healthy Fall Food Alternatives
Emily Block | Blogger
As evident by the changing leaves, autumn is upon us. Among other things, fall brings us some of our favorite comfort foods. Despite popular belief, however, sweater season is not an excuse to let your healthy diet falter. Here are some of my favorite fall foods with ways to make them a little bit healthier.
1. Swap: Pumpkin Spice Smoothie for Pumpkin Spice Latte
Each year, the beginning of fall brings Starbucks's famous PSL. I'll do you the courtesy of not telling you what actually goes into this beloved drink, but keep in mind that consuming these on the regular can make your sugar consumption skyrocket. While the occasional pumpkin spice latte does little harm, it's probably not a great idea to drink these on the daily. Swapping for this nutrient-packed pumpkin spice smoothie will give you 3 servings of fruits and vegetables without compromising on flavor.

2. Swap: Apple Pie Oatmeal for Apple Crisp
There is no doubt that apple crisp is one of America's favorite fall desserts. Pair it with a scoop of vanilla ice cream and you get a sweet sensory experience. Don't let the title fool you though: this dish contains a lot more sugary crisp than heart healthy apple. This apple pie oatmeal utilizes most of the same ingredients, just in healthier proportions. This way, you get all the flavor without the calories. Also, you can have it for breakfast, and I'd say dessert for breakfast is always a win.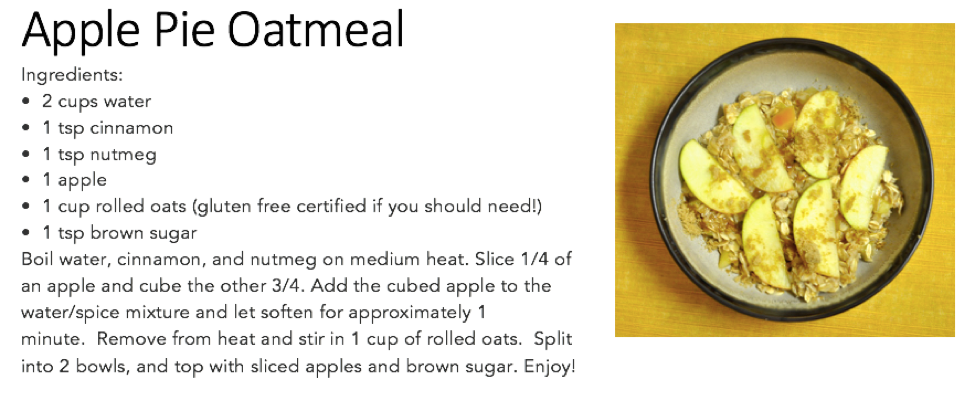 3. Swap: Cookie Dough Dip for Chocolate Chip Cookies
Nothing beats fresh baked cookies but the dough before they're cooked. I used to relish in the sneaky joy of taking spoonfuls of cookie dough out of the bowl when I thought my mom wasn't looking (she was). Unfortunately, baking the cookies doesn't actually make them any healthier (minus the salmonella risk). This protein packed cookie dough dip is a great alternative. It's actually made with chickpeas, but no one believes me when I have them try it.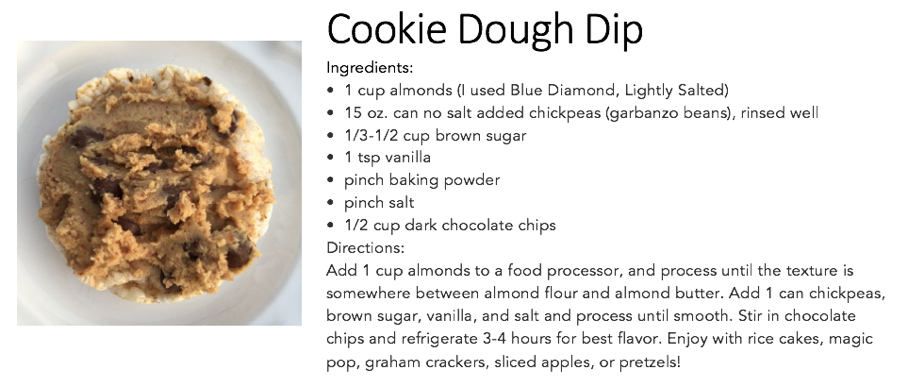 Remember, the occasional treat is nothing to fret. However, making simple swaps like these every now and then will certainly add up and positively impact your overall health.
Photos and Recipes by Emily Block