Club Profile: UCN Studios
Brittany Poeppe | Assistant Arts + Life Editor
The University Cable Network (UCN) is a television station on campus, devoted to coverage of an array of subjects. From movies, to an Academic Cultural Event Series (ACES), to news, to the random, UCN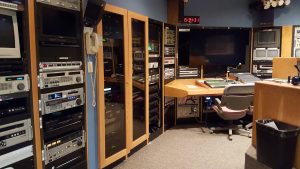 Studios is there. Many students participate in show production at UCN, some even produce their own shows. For senior Digital Media majors Zach Schmidt and Chelsey Goetz, much of their time is devoted to UCN Studios. Getting involved as freshman, the pair became station managers when they were sophomores. Since then, they've been involved in more productions than they can count.
"I think I can count the number of productions we've missed on two hands. We do nearly every production requiring more than three people, and we've been in nearly every position here," Schmidt said.
Schmidt and Goetz love watching crew members grow and making leaders for the future. Aside from being station managers, the pair has their own show on UCN. The concept for Randomonium was created in the back of a van. To them, it was a joke for a long time. Since its creation, Randomonium has given Schmidt and Goetz many memories. Their favorites?
"It was more of a terrible moment, but I ate a whole stick of butter and almost vomited. I also really enjoyed the science episode because we got to do science experiments. It wasn't flashy, but it was fun," Schmidt said.
"The cat episode! I got to hold a fluffy, gray cat, and we also had Morgan McGrew, Cat Wrangler, make an appearance," Goetz said.
Being part of such an organization has had many rewards for the pair.
"I remember wanting to become station manager. I wanted to do more things, bring in more opportunities that weren't available at the time, and push for good shows. I care about this organization so much. We're always in the studio, we've had a lot of fun doing this, and all of our friends there," Goetz said.
"UCN has ultimately helped me grow. It's the only reason I've had the internships I did, and it's the main reason why I'll have the job that I'll have. It's helped me develop traits employers are looking for," Schmidt said.
Since they will graduate this spring, Schmidt and Goetz will miss UCN, crew calls, and shows. Being part of such an organization for four years has taught them a lot.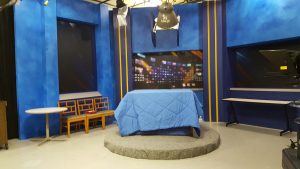 Both agree that people learn at different rates, and it's hard to make someone care. Schmidt and Goetz try to show their passion and use different leadership styles and motivation tools for different people. The ultimate lesson UCN taught them?
"Do it for yourself. Sometimes people think when you produce, it's for another person, but you'll walk away with as much knowledge as you want. Everything you do is for you; it'll shape your career, so stand by your choices," Schmidt said.
"You're never too busy. Often we get crew members who can't make it, but we've made it to almost every show. Always say yes to opportunity," Goetz said.
"Join UCN, even if you don't know anything about tv! We're going HD next year, and that'll change everything. It'll be exciting. You can be the first class to touch [break] the equipment, and it'll be equipment similar to what's in the field now," Schmidt said.
Featured photo by Kyle Wiebers
Photos by Brittany Poeppe