Snapchat displays the prominence of changing media at CMA conference
Kiley Wellendorf + Stephanie Steiner | Co-Editors-in-Chief
Each spring, students involved in the Society for Collegiate Journalists (SCJ) chapter at Buena Vista University (BVU) get the opportunity to travel to New York City for the national College Media Association (CMA) conference that discusses current trends, topics, and issues in the media industry.
This year, there were over 250 sessions, keynotes, and workshops held at the CMA convention, giving college students all over the nation the chance to gain insight about their field of interest, whether it be in the realm of social media, design, journalism, or other media related fields.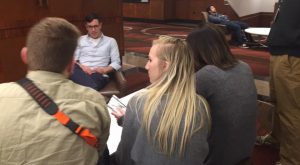 Al Drago, a PhotoJournalist for RollCall, who currently covers Capitol Hill and the 2016 Presidential Race, led a session during the CMA conference titled "Snapchat Success: Reporting Live 10 Seconds at a Time." Drago's sessions covered the use of Snapchat, a social medium where users are able to send quick photos and videos to one another, as an upcoming way of reaching a larger audience.
"I think Snapchat has transitioned from more of a light-hearted, fun messaging service — which it still is — to now informing the millennial generation because that's the source we're using to get our news," Drago said.
Instead of creating entertainment videos, Drago designated his Snapchat account for quick broadcasts as a way to reel in and inform current and future audience members. Currently, Drago has been creating news-related Snapchat stories for a year now.
"I started doing it alongside when I was working and took it as a 'behind-the-scenes' to my job, and then slowly brought on this broadcast-storytelling to it," Drago said. "I combine my photography with a fun behind-the-scenes video."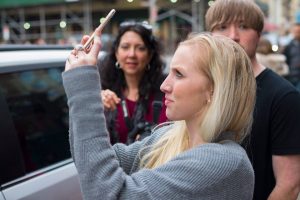 With the goal of reaching a wider audience, BVU's media leaders teamed together to devise a plan much like Drago's. Carrying their phones in hand, students filed out of the conference with a goal for the night: narrate their New York exploratories, much like Drago had done throughout the session.
"'Broadcasting' [Snapchat stories] gave the feel of the atmosphere of the city and the rush of adrenaline that you may experience on a street corner," Kaylie Plowman, News Producer for the University Cable Network (UCN), said.
Plowman broadcasted alongside Special Events Producer for UCN, Kassi Kommes, and both set a goal of creating an intimate take on their adventures in New York.
"The story was concise and got to the point," Kommes said. "The hardest part was getting everything in those ten seconds."
Keeping Drago's tips in mind, media organizations on the BVU campus will now hope to reach students where they are starting to live in the social media world: Snapchat. Both UCN and The Tack ONLINE now have Snapchat accounts in an effort to further reach BVU students, and also to listen to what they may have to say about a current issue or topic.
"This Saturday is Accepted Student Day, and we're going to encourage the perspective digital media students to add us on Snapchat to showcase our different activities to get them excited for the upcoming school year," Plowman said.
"In addition to the shows that we broadcast, we're taking pictures behind the scenes and also posting them to the story."
Although this is the beginning for new additions to the media organizations on campus, SCJ goers are looking forward to the future of Snapchat broadcasting and believe it will continue to widen audiences on campus.
If you're interested in keeping up with Digital Media organizations at BVU, follow the Snapchat accounts below.
The Tack ONLINE – bvtack
University Cable Network – ucnstudios
Photos and Video by Zachary Schmidt