BVU and Storm Lake PD weigh in on Creepy Clowns
Kiley Wellendorf
October 10, 2016
Kiley Wellendorf | Senior Feature Writer
The "creepy clown" phenomenon that has been rampant on social media and in the news media in recent weeks is also on the minds of security and law enforcement on the Buena Vista University (BVU) campus and in the Storm Lake community.
"Creep clowns" refers to the verified and rumored sightings of people dressed as clowns mysteriously roaming at night in fields, wooded areas and cemeteries, or along roads, sidewalks or parking lots designed to scare people. Some clowns have allegedly tried to lure women and children into the woods, and others have made threats to schools. Social media has fueled the epidemic, and there have been clown sightings reported in more than a dozen states which have led to more than a dozen arrests.
Iowa is among the states with reported clown sightings.
While the creepy clown rumors seem recent, Storm Lake Chief of Police Mark Prosser has been following the epidemic since this summer's South Carolina clown scare, which is where the clown craze seem to have started.
"We did have one incident this summer where we arrested an individual who scared some people in Oasis park late at night that had a mask on," Prosser explains. "We just had one single incident of it."
The individual didn't sport a clown mask and there hasn't been any sign of creepy clown activity in Storm Lake, Prosser says.
Last week, an unverified Twitter account "@IowaClowns" dubbed Alta, Iowa, a location where a clown appeared around 10:30pm. The sighting was never confirmed, but other incidents in Iowa have prompted authorities around the state to begin to take measures to stop the rumor mill.


"It does play on peoples fears and phobias," Mark Kirkholm, Director of Campus Security said. "There are people who are afraid of clowns, and it's not okay to scare somebody."
BVU students, like many others, are certainly plenty fearful of this new phenomenon. Forty-two percent claimed fear over hoax in a social media survey.

Kirkholm recognizes the hysteria and said it reminds him of an incident in late 1980's and early 1990's. Instead of social media introducing the topic back then, the fear was sparked from a single book: "The Truth About Satanism" by Anton LaVay.
A new detective in law enforcement at the time, Kirkholm led presentations covering the different symbols that were associated with the fear of satanic rituals in an attempt to educate the public and reduce fear.
"People were wearing 'goth,'" Kirkholm said. "Everyone was walking around wearing black, having their faces black – people were wearing necklaces with the pentagram."
The movement only lasted a year and then faded, a timeframe much longer than what Kirkholm predicts the creepy clown movement will last.
Dr. Robert Blodgett, Professor of Psychology, explains why the internet age allows individuals to keep the talk going.
"We are 'genetically programed' to preferentially process negative information," Blodgett explains. "We mistrust our fellow humans more because we focus on the negative sides of humanity.We don't see the positive sides – it doesn't sell."
While clown sightings have appeared throughout the country, individuals have taken a step further to 'protect themselves' or even get involved in the chaos.
"Young individuals who have made poor choices, calling in threats to schools and have been arrested – their lives are going to be impacted forever," Prosser said.
Prosser refers to the number of incidents popping up around the country, where individuals have posed as clowns, making threats to their own communities and school districts.
Blodgett mentioned "deindividuation," a social psychology theory in which an individual loses their self-awareness, typically brought on during moments of brain stimulation or even in more specific cases such as wearing a mask.
"Ordinarily these people wouldn't smash out windows. They wouldn't loot, but under deindividuation, they're more likely to take their cues from what other people are doing and engage in those activities," Blodgett said.
Several theories have supported this phenomena, including the infamous Stanford Prison Experiment, a 1971 experiment done by Stanford University.
The experiment put participants into two categories: prisoners and guards. Once assigned, all subjects moved temporarily down to a make-shift prison in the basement of Stanford University for two weeks.
If a participant was a prisoner, they were treated as one. Prisoners were arrested outside of their homes, strip-searched, their hair was cut, and their home became a make-shift cell in the basement of the university. If a participant was a guard, they were given a night stick and a uniform.
During the experiment, prisoners experienced humiliation, punishment, and harassment amongst guards. The study ended eight days early due to the subjects taking their roles too seriously.
"When we feel that our identity isn't apparent to people around us, our behavior is likely to become more extreme," Blodgett said.
With Halloween approaching, students weigh in on the act of purchasing a clown costume for this year's celebration.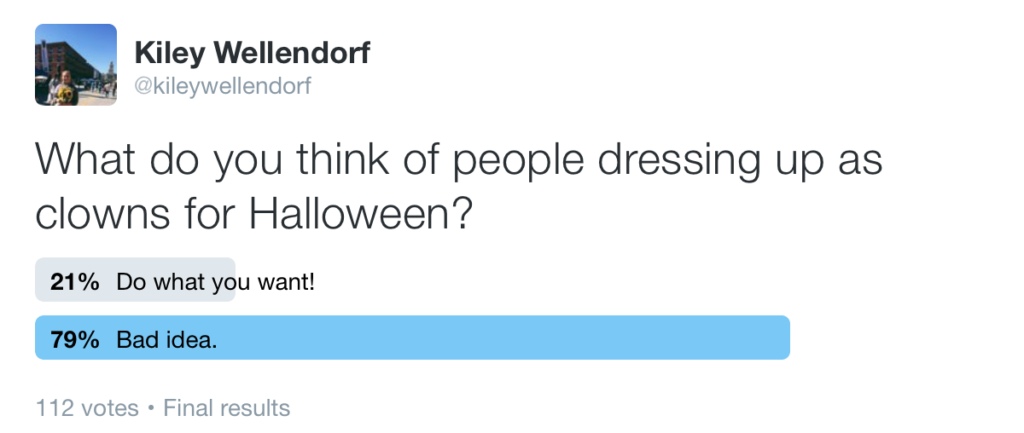 While it is not illegal to sport a clown mask around town, SLPD will pay attention to those who decide to take part in the phenomena.
"If someone is just wearing a clown costume or mask, we as the police might suggest to them that the timing for that is not appropriate," Prosser said. "But that in itself is not a crime."
"If they are scaring someone, chasing someone, trying to cause someone to be scared or traumatized in some fashion, then that is a criminal activity and we will investigate it accordingly," he added.
If a student feels threatened, they should call the police immediately, Prosser says.
As the season for horror approaches, both SLPD and BVU's Campus Security will continue to take the threat of "Creepy Clowns" seriously within the community.
"For the most part, I'm sure people are doing it to be funny, but right now it's causing concern in community," Prosser said. "The most prudent thing for people to do is to steer clear away from the clown mask thing, and let it die a natural death."
What do you think about the Creepy Clown hysteria? Leave your comments below.