No more potato ole's: Taco John's closes in Storm Lake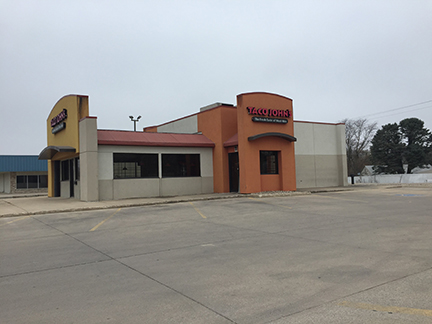 Kevin Martinez & Ashley Schmit, Contributing Writers
November 17, 2017
Two days before Taco John's closed, a friend and I visited there to get some food. Two days passed, and we decided that we wanted to go get food from Taco John's again. An hour after we decided we would go, my friend informed me that the Storm Lake Taco John's had closed forever.
It came without warning. After I found out, I went to find my friend Ashley, who had recently burst into her suite's lounge ranting about Taco John's closing. Together, we ate some chips and salsa while complaining about how this establishment was no longer open. Ashley was mostly disappointed that we would no longer be able to purchase potato olés, and I couldn't agree more. But there were so many other things we would miss about Taco John's.
So we decided to write an article about it.
A few of the positive things we enjoyed about Taco John's was the fact that it was very convenient and  increased the variety of food we could purchase in town. Storm Lake has a limited variety of choices for fast food, so when we had heard that Taco John's was closed, it was very disappointing. We now have less choices compared to the already limited options of food we had. This is especially disappointing when it comes to the cravings one would get late at night. Potato olés were our go-to for late-night snacks. They were great for satisfying our craving, but not gorging ourselves and becoming too full. We're disappointed we could no longer enjoy this nighttime bite.
The worst part is that Taco John's closed without any forewarning. The closure probably would have been better received if they had given a couple weeks of notice about the closing. This would have given everyone a chance to go to Taco John's a few more times before they closed. We would have gotten our fill of potato olés, and been a little more content with the closure.
Closing down with little to no communication not only damaged their public relations, but their image. This damages their relationship they previously had with customers like us. We will probably take a long while before going back to this Taco John's if they ever reopen, because as customers, we should be told ahead of time of any possible closures.  A fast-food, chain restaurant having to close is never a good sign for the company. This creates damaged relationships between Taco John's corporate, and the community.
The closing of Taco John's hurts, because we must travel to Spencer or Cherokee to get our fix of potato ole's. But who knows how long those two Taco John's will remain open.