Who's Who in Beaver Sports: John Foss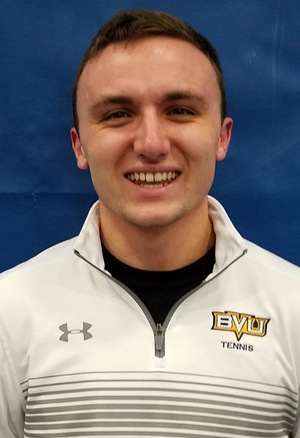 John Foss is a junior transfer student and is a member of the Buena Vista University men's tennis team. He comes to Buena Vista University (BVU) from St. James, Minnesota. Foss previously attended the University of Wisconsin – La Crosse. Foss is a psychology major. 

Foss attended St. James High School where he also played tennis. Foss says his high school coach, Les Zellmann, made him fall in love with the sport.   
"I've attended campus with him since I was about six years old," says Foss. "He did a great job emphasizing that having fun is the most important part."  

Foss also credits Zellmann with being his biggest influence when it comes to tennis.  
"He dedicated his whole life to our tennis program. He donates all of his time to help players succeed and grow," says Foss.  
Foss recalls his favorite tennis related memory being winning the section championship match to go to state when he was a senior in high school.  
This is Foss's first semester here at Buena Vista University, however, head men's tennis coach, Brett Groen says this had not limited Foss. 

"He is already an invaluable piece to our puzzle," says Groen. "He was able to step right in and play our top spot, it really frees up the rest of the team to stay in positions they have been used to before. He is an asset both on and off the court, and his ability to keep getting better makes everyone else push for the same." 
Foss has competed well this season. As of now, he sits at number three in the number one singles division in the IIAC conference. Coach Groen says the sky is the limit for Foss.   
"One of his attributes is his ability to adapt his game mid-match to help him win the event," says Groen. "Then during practice, he will work harder at different parts of his game he wants to work on, so that way mid-match again, he can change and keep doing things that make his game and his match his own."
Coach Groen praises Foss on his great work ethic and ability to stay focused on improving his game.   
"He never wants to rest on what he can do now, he always wants to keep getting better and he does it. Others can talk about it, but John really focuses day to day on how he can fix one thing and work hard to add another element. It's a great gift to have," says Groen.