Price Rises Once More as BVU's 2019-20 Tuition Amount Is Released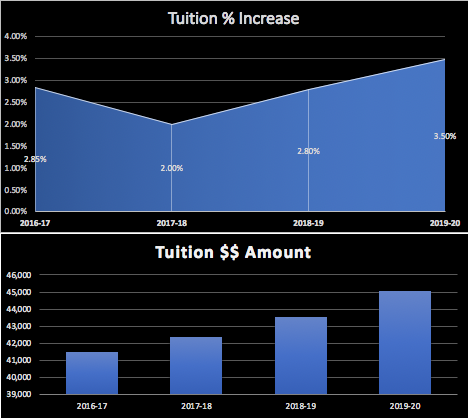 On Thursday, Nov. 8, President Joshua Merchant announced to Buena Vista University students via email that tuition and room and board charges would go up 3.5 percent for the 2019-2020 academic year for a total cost of $45,066.  
 "Every year there is usually some type of tuition increase to help costs, help offset costs, increased costs, things like that," Vice President of Finance and Administration Suzette Radke said. 
Dr. Ashley Farmer-Hanson, interim vice president of student affairs and dean of students, said the Board of Trustees decided on this increase at their most recent meeting in October, which is the first of three meetings they hold every academic school year. 
Merchant stated in the email that these extra funds will be allocated towards some needed residence hall improvements.  Radke said that $150,000 of the increase in tuition will go towards assessing what is needed in the residence halls and investing in those improvements.   
Farmer-Hanson said that they hope to give the residence halls more of a "BVU pop," to make them feel more like BV.  However, she wanted to make sure that students knew that was not going to be the only thing they focus on in the halls.  She has asked the Residence Life team to come up with a "wish list" of things they'd like to see in the residence halls.  
"It's just trying to make sure what's the priority, what's going to make the biggest impact for the students," said Farmer-Hanson. 
Provost and Vice President of Academic Affairs Dr. Brian Lenzmeier added that federal compliance changes "are going to require lots of money to pay legal fees to update our policies to be in place."  
While the price tag on BVU's education is relatively high compared to many small private Iowa institutions, BVU's overall percentage increase is often much lower.   
"Last year we were the lowest of a group of about 12 colleges, private colleges. That was our increase percentage," Radke said. 
So far this year, BVU has the lowest increase percentage of six private colleges. 
"I think we've done a pretty good job of not raising it as quickly as other people," Lenzmeier said.   
Not only does BVU work to keep the increase percentage at a minimum, it also prides itself as being one of the very few private colleges in Iowa that have no mandatory fees, Radke said. 
"We've tried to factor all those into the tuition, so it doesn't look like you are getting nickeled and dimed all the time," said Lenzmeier. 
Even without the mandatory fees, however, BVU still sits towards the middle in terms of sticker price for private Iowa colleges.     

However, Lenzmeier said that attending BVU, or any small private college, is usually worth it in the long run.  He said that while state schools tend to be cheaper, many students do not graduate until their fifth or sixth year in school.  Put that on top of not making any wages during those years, state schools end up costing almost the same as, if not more than, private schools. 
"I'm really proud of what we do to graduate people in four years to try to minimize how much they end up owing in the end," said Lenzmeier.  "And a lot of times the people that do go to the regent schools end up—it ends up costing them more. You think about a year of lost wages, and an additional year of paying, it adds up pretty fast." 
If nothing else, BVU has other things going for the school that make the hefty price worth it.  Lenzmeier said that when an outside organization called CREDO came to campus to assess the school, they were impressed with the access students have to faculty, staff, and coaches. 
"A lot of small schools say they do it, but not nearly as well as we do. One of the things they said was 'we walked around campus for two days and nearly every professor had a student in their office or was talking to a student,' and they just don't see that interaction, even at small schools, so that I think makes it worth it." 
Director of Communications Kelsey Clausen added that this is not just what BVU or CREDO says, but that students believe it too.  
"That's what students are saying too.  So, it might be easy for us to say that, and we know that our faculty to student ratio is 1:9, but that's what we hear from students too." 
Farmer-Hanson said that it is everything you want out of a higher education that makes the large price worth it. 
"The learning opportunities, the one-on-one with faculty and staff, the accessibility to administration, the experiences you get that you would never get at a large institution, I think, is what makes you a well-rounded individual who is prepared to succeed in life after college."