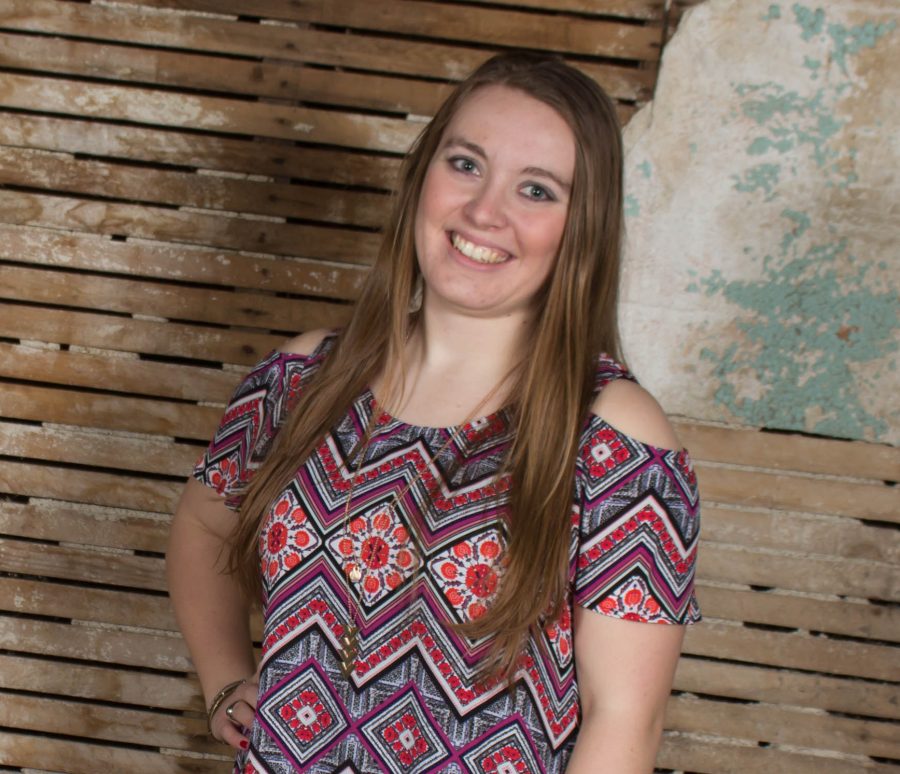 Hey everyone! I'm Olivia, and 
I major in Digital Media with a minor in English and Political Journalism. 
I'm Senior Editor of The Tack
, which means m
y role is to guide new writers in their journalistic writing, as well as take on special projects or help out wherever is needed. I'm super curious and love to learn, so you can find me attending a wide variety of events because I love being a part of whatever is happening on campus. You could say I like a busy schedule. I'm also one of the special events producers for BVTV, social media manager for Impact, and writing tutor in the CAE, and an academic assistant for Professor Jerry Johnson. I love helping people, so if you ever need a hand, shoot me an email! Hope you enjoy our stories!
Olivia Wieseler, Senior Editor
May 22, 2020

Dr. Joshua Merchant Resigns from BVU Presidency, Provost Dr. Brian Lenzmeier Steps in

(Story)

May 02, 2020

Buenafication Day 2020

(Story)

Mar 24, 2020

COVID-19's Effect on a D.C. Intern

(Story)

Nov 18, 2019

Pierce-White Potty Scandal: Who's Pissed and Who's Pissing

(Story)

Nov 09, 2019

Give Snow Some Credit

(Story)

Nov 06, 2019
Oct 16, 2019

Why I'm Okay with the Cubs' Decision about Joe Maddon

(Media)

Oct 02, 2019

Real toys become real life in this 8-year brother collaboration

(Story)

Sep 20, 2019

$2.9 Million Gift Paves Way for Innovative Rural Entrepreneurial Program

(Story)

Sep 10, 2019

College Football Predictions

(Media)

May 25, 2019

Truth or Dare: Credibility of Journalism in the 21st Century

(Story)

May 15, 2019

Making Every Student Feel Important: Wythe Finalist Dr. Callé Friesen

(Story)

May 09, 2019

The Saddest Goodbye

(Media)

Apr 26, 2019

2019 Senior of the Year Finalists 

(Media)

Apr 24, 2019

Buena Vista University Pilots the First Cohort of McCorkle Student Fellows 

(Story)

Apr 18, 2019

Associate Dean of Faculty position removed; Steinfeld leaves on sabbatical early

(Story/Media)

Apr 05, 2019

No Artificial Flavors

(Story/Media)

Mar 26, 2019

BVU Library Decreases Physical Holdings by 50 Percent

(Media)

Mar 14, 2019

#BVUSnakeEscape Lead Goes Cold

(Story/Media)

Mar 08, 2019

BV "Blue Steel" Breathes Life into Game Day Atmospheres 

(Media)

Mar 05, 2019

Meet the Student Body Presidential Candidates

(Story)

Mar 03, 2019

Buena Vista University in the Process of Developing Campus Master Plan

(Story/Media)

Feb 25, 2019

AG's Game Center: A New Kind of Sport

(Media)

Feb 16, 2019

Buena Vista University's Black Student Union celebrates Black History Month

(Story)

Feb 13, 2019

Steve Wozniak Announced as 23rd William W. Siebens American Heritage Lecturer

(Story)

Jan 30, 2019

Curiosity might kill cats, but student journalists thrive on it

(Story)

Jan 28, 2019

AG's Game Center: Super Bowl Prediction

(Media)

Dec 04, 2018

I Don't Want to Hear It: Is Free Speech Too Free?

(Story/Media)

Nov 24, 2018

A Catholic College Student's Response to the Sexual Abuse Crisis in the Catholic Church

(Story/Media)

Nov 20, 2018

Price Rises Once More as BVU's 2019-20 Tuition Amount Is Released

(Story/Media)

Nov 07, 2018

AG's Game Center: College Basketball is Back!

(Media)

Nov 06, 2018

Operation Winter Wear is a Go

(Story/Media)

Oct 17, 2018

AG's Game Center: Random Thoughts

(Media)

Oct 02, 2018

BVU Student-Athletes Push for Mental Health Literacy on Campus

(Story)

Sep 29, 2018

Student Senate Proposal for Reinforcement of Chapel Policy Makes Way to President's Council

(Media)

Sep 27, 2018

Zombie Invasion: Three BVU Students Attend Largest Human Versus Zombies Invite in the Country 

(Story/Media)

Sep 10, 2018

Director of Campus Security Leaves BVU; Garling Steps In

(Story)

Sep 08, 2018

BVU Faculty Resignations Come With Little to No Warning

(Story)

Sep 07, 2018

AG's Game Center: College Football

(Media)

May 22, 2018

Wiebers Recognized as Senior of the Year at Student Recognition Dinner

(Story)

May 16, 2018

Wifi Out at BVU due to cut cable in Sac City

(Story)

May 15, 2018

Forum Renovations Underway, to be Completed by December 2018

(Story/Media)

May 02, 2018

A Popular Face Leaves BVU; Shea Accepts AEA Position 

(Story)

May 02, 2018

New Information Security Program Takes Effect in May

(Story)

Apr 30, 2018

Iowa Secretary of Agriculture & Alum Mike Naig Announced as Commencement Speaker

(Story)

Apr 18, 2018

Residence Suites Single Room Prices Rise for 2018-19 Academic Year

(Story)

Apr 13, 2018

Twelve Travel Opportunities Will Be Offered in the Next Academic Year

(Story)

Apr 12, 2018

At-Large Elections for Student Senate Open April 26

(Story)

Apr 05, 2018

New Student Senate Leadership Elected for 2018-2019 School Year

(Story)

Apr 03, 2018

BVU Students attend "March for Our Lives" in Nationwide Gun Reform Protest

(Story)

Mar 28, 2018

Women Become Gamers in an All-Female Dungeons and Dragons Campaign 

(Story)

Mar 27, 2018

President Merchant announces Agriculture and Rural Entrepreneurship Center at BVU

(Story/Media)

Mar 15, 2018

First-Year Retention Rate Falls to 79.8 Percent from Fall to Spring

(Story)

Mar 10, 2018

Four Female Professors are Selected for Prestigious Wythe Award

(Story)

Mar 09, 2018

President announces beginning plans for new programs at BVU

(Story)

Mar 02, 2018

Collins receives three-year scholarship through ROTC program

(Story)

Feb 28, 2018

BVU Residence Life is taking nominations for the Willard Stief Memorial Award

(Story)

Feb 26, 2018

Three students rescue a little brown bat from a Liberty light fixture

(Story)

Feb 15, 2018

BVU Group Global Fellows Heads to Chile

(Story)

Feb 13, 2018

BVU Board of Trustees Announce $15.1 Million Forum Renovation

(Story)

Nov 22, 2017

The Wizarding World of Harry Potter Is Taken to a New Level

(Story)

Nov 15, 2017

When can we start 'caroling the bells?'

(Story)

Oct 19, 2017

Just Dudes Being Dudes: The Rock Brothers

(Story)

Oct 11, 2017

Taking a Knee: Ignorance is NOT Bliss 

(Story)

Sep 21, 2017

Human Trafficking: An Illegal Billion-Dollar Industry Hits Close to Home  

(Story)

May 16, 2017

Students and Community Members Are Recognized for Their Service to Others

(Story/Media)

May 05, 2017

Ugly Backlash against "Kim's Candle" Serves as Reminder to Love One's Enemies

(Story/Media)

May 02, 2017

What Donald Trump Said in Debates and What He's Doing Now

(Media)

Apr 22, 2017

Earth Day: A Day of Complacency

(Media)

Apr 13, 2017

Sharing Our Stories: Facebook's Newest Feature

(Story/Media)

Apr 04, 2017

Dignifying the Body: Respecting Ourselves First

(Story/Media)

Mar 08, 2017

Religion: The word that is never spoken

(Story)