An owl to witchcraft. A dove to freedom. A holiday to a massacre of wrens.
"The holiday is they go out and hunt wrens, and once they kill the wren, they put it on a stick, and they paraded it around town because there is an old story where a witch did something bad … and then she turned into a wren in order to escape," recalls Brock Jordan, a senior mathematics major from Newton, IA.
Sitting in high school humanities class, Jordan found stories that led him to take thousands of pictures of tens of thousands of birds. The warm, inviting woods of his grandma's backyard were the perfect place for the beginning of his journey after hearing the stories that sparked his interest.
Different types of bird feeders were strewn about the yard as little fluttery friends shot through the air like rockets, coming down to perch for a delicious meal. Jordan would watch the birds, study them, and figure out which was which. The red-breasted one, the brown-feathered one—what type of woodpecker is in that tree? Soon enough, he was teaching his grandma more about birds than she could teach him.
When he finally got to campus, Jordan set out to share his interests with others, forming BVU's first birdwatching club. He got together a little family of bird watchers that would go out with their small army of binoculars and watch the birds around Storm Lake.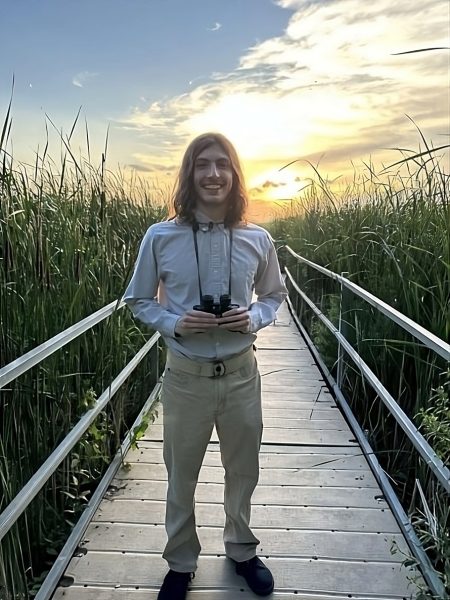 One afternoon after lunch, Isaac Stone, his suitemate, was walking back home with Jordan, and out of the corner of his eye, Jordan spotted a little bird up in one of the trees as they walked by.
"Oh my God, how did you see that? … He's like a bird sensor. His bird senses were tingling, you know?" Stone said, in awe of Jordan's eye for birds.
Watching birds was one thing, but last year something changed. Jordan had never quite used a camera before, at least not a $3000 one, but Dr. Nathan Backman, Associate Professor of Computer Science, reached into BVU's STEIN funding to give Jordan a chance to take a shot at photography.
Photo after photo, shot after shot, changing the settings little by little, Jordan painstakingly researched every aspect of the device to capture the most life in the best images.
With his ever-growing knowledge of photography and birds, Jordan captured thousands of pictures over one summer. Putting together the best of his works, Jordan will display his favorite images at the December art show. He hopes to continue learning about the winged creatures that captivated him so long ago.