Indie animation has been taking off recently. Indie pilot "Hazbin Hotel" was picked up by A24 Pictures, and "Helluva Boss," its spin-off series released independently on YouTube, is now halfway through its second season. After the release of other successful pilots such as "Lackadaisy" and "Murder Drones," the internet has been getting excited for one of the newest independent pilots that just dropped. 
 "The Amazing Digital Circus," produced by indie studio Glitch Productions, garnered 85 million views within its first three weeks of release. An animation team led by Kevin Temmer, lead animator and a veteran in the industry, brought this amazing piece of media to life. 
The story follows the adventures of Pomni, a character with a jester-like appearance and red and blue outfit, as she learns about the crazy new world or "Digital Circus" that she has found herself in with no recollection of her past. Caine (pictured below) is the ringleader of all the characters trapped in the digital world. He's a charismatic, time bending, over the top host to the rest of the characters, sending them on adventures in the digital landscape.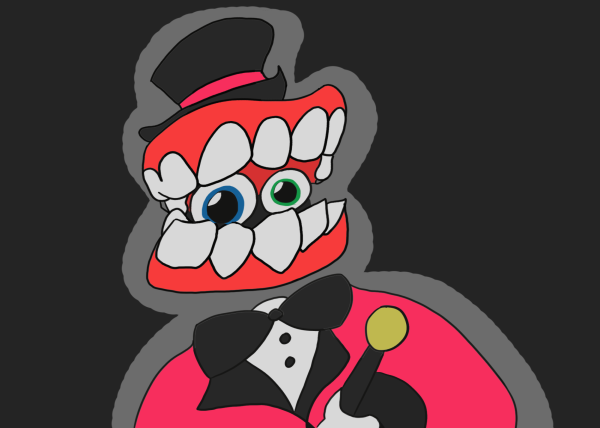 Pomni and the rest of the rag-tag circus crew, consisting of Kinger, a chess piece, Jax, a purple rabbit, Zooble, a bunch of shapes, Gangle, a mask on ribbon, and Ragatha, a rag doll, attempt to hunt down Kaufmo, a former member of the group pushed to the brink of insanity. While escaping Kaufmo, the gang also deals with Caine's adventure of the day involving capturing a ton of critters called gloinks that were let loose. 
The plot is extremely interesting, dropping small hints here and there of how the digital world functions as the audience learns with the characters about the abstract world surrounding them. In all the chaos the story is actually very cohesive with its main plot and sub plots giving time to soak in everything in while also introducing new ideas, conflicts and resolutions. 
The animation is phenomenal. Every character is unique and well designed, each having their own style of moving, especially in their expressiveness. For Ragatha, her mouth was made to move like it was claymation, Jax constantly had a wide smile but never opened it to speak, and for Caine they had to make expressions for a character that was literally a mouth. 
The colors are crazy, the characters are crazy, the story is crazy, but through the magic of a talented team and an infinite scope of imagination, "The Amazing Digital Circus" paves the way for indie animation.