Research programs lead to real world applications
Tesia Posekany | Contributing Writer
Internships and research experiences offer invaluable insight into real world applications of collegiate learning and provide an opportunity to apply what is learned in the classroom to actual situations. The people met while exploring these opportunities may lead to treasured resources and connections farther down the job searching highway.
I personally indulged in a research experience at Iowa State University (ISU) this past summer through the National Science Foundation's (NSF) Research Experience for Undergraduates (REU). This program aimed to provide top-tier research experience for undergraduates that hail from small universities and intend to continue on to graduate school.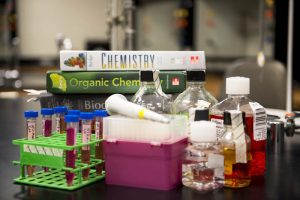 While at ISU, I conducted my individual research project eight hours a day, five days a week. The experience accurately exposed me to the daily routine of a graduate student pursing a master's degree or Ph. D. in a biological field. Specifically, I worked with plant virus protein location inside of plant cells and the protein's location importance to insects that feed on the infected plants. However, what I was even more focused on was my relationship with my mentors and my viewpoints on attending graduate school after my time at Buena Vista University (BVU).
I worked side-by-side with my mentor, Dr. Chunling Yang and my Principle Investigator, Dr. Steve Whitham. The conversations that I was privileged to have with these two respectable scientists will be unmatched. They offered true, beneficial advice regarding graduate school possibilities and careers in research science that has helped me solidify my post-graduation decisions.
It was a focus of ISU's REU program to thoroughly expose us to opportunities within the biological field and the implications of our research topics. We accomplished this by traveling to a family farm, touring DuPont Pioneer, visiting the Mayo Clinic, and also exploring the wonderful stomping grounds of ISU. These opportunities would not have crossed my path without my research experience at ISU.
I would not have explored real world applications of the concepts I have learned inside of the classroom on such an extensive level without my research experience. This experience allowed me to explore my interests in a research career and graduate school. My research experience at ISU has also lead to a graduate school fellowship that will allow me to continue my education after BVU.
Research experiences or internships allow you to scrutinize real world possibilities for future endeavors after BVU by interacting with established individuals in your field of interest. This interaction is only capable outside of BVU's campus restraints. Get out there; find your future!
Photo (above) by David Ekstrom
Photo slideshow (below) courtesy of Tesia Posekany
[nivoslider id="6161″]