New BVU student arrested in chain of campus burglaries
Aaron Burns & Courtney Van Haaften | Co-Editors in Chief & Krystal Schulte | Visual Co-Editor
On Tuesday, August 26, Buena Vista University (BVU) freshman Justin Todd from North Carolina was taken into custody by the Storm Lake Police Department (SLPD). Following an investigation that began on Monday, Todd was charged with seven counts of Burglary, four counts of Unauthorized Use of a Credit Card, Forgery, and Possession of Alcohol. He was booked into the Buena Vista County Jail on a $5,000.00 bond.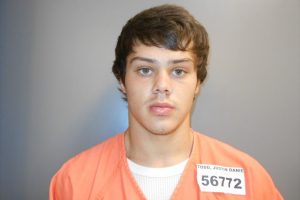 The police reports allege that seven rooms in Pierce Hall on the campus of BVU were burglarized in the time period between late Sunday, August 24, and early morning hours on Monday, August 25. Items that were stolen included credit cards, cash, and other personal items.
One credit card in particular was then used at several businesses in Storm Lake including the Lehnus Campus Bookstore, Hibbett Sports, GameStop, and Wal-Mart. Police obtained security footage from Wal-Mart that led them to the arrest of Todd.
Freshman Austin Zobel is one of several students that had items taken from dorm rooms. Zobel says that he and roommate freshman Will Dunn usually lock their room at night. Zobel recalls Dunn leaving during the night for the restroom, where the door remained unlocked afterwards. Zobel's wallet was on his desk beside the door with cash readily available.
Another freshman, Josh Hoffmann recalls the events of early Monday morning when his dorm room was broken into. Hoffmann claims that he heard his door open, but saw his roommate in bed. Hoffmann asked the intruder what he was doing in the room, and they left. Fortunately, nothing of Hoffmann's was taken.
According to Assistant Dean of Students and Director of Security, Mark Kirkholm, because Todd is currently being held at Buena Vista County Jail, he will go through proceedings for his criminal charges before being subjected to BVU's internal judicial process. In the meantime, BVU will be reviewing the options available to the institution.
"Fortunately, it doesn't happen often," Kirkholm said. "We have incidents on campus every year, as you can look at our crime stats and you can see what does occur. But what was unusual this time was the number and the pattern that was done over such a short period of time and how the debit and credit cards were used so quickly."
Kirkholm described the incident as rare.
"I can't think of the last time we had anything along that line occur to that significance," he said.
Kirkholm advises students to take the BVU Campus Security Advisories seriously and follow the tips given. The latest alert that accompanied this incident included the these recommendations to students:
Lock all doors, even if you are leaving for a short time.
Be aware of your surroundings.
Make certain to lock your door before you go to sleep.
Never prop open any locking residence hall door.
Avoid leaving notes on your door saying that you are out.
Do not loan your keys to anyone, or leave your keys unattended.
Do not put your name and/or room number on your key ring.
Report all thefts to Campus Security.
Label your books, notebooks, and personal property with your name.
Never open doors of campus buildings to strangers. If someone claims to be a student and you're not sure, ask to see a student ID.
Kirkholm encourages students to take basic measures to keep themselves and their belongings secure on campus.
"While they live in a safe environment, and they become very comfortable, it still behooves them to take the standard precaution that everybody grew up with of locking their doors and keeping their eyes on their property," Kirkholm said. "I appreciate the fact that they become comfortable and can leave their doors unlocked, but unfortunately this is what the outcome is as a result."
Although Residence Life was not directly involved in the investigation, it is aware of the circumstances. The staff is continually being informed in order to help communicate with students and be aware in case other reports arise.
"I'm very glad we were able to reconcile this as quickly as we did. I was very concerned when the reports started coming in. Because of the students' cooperation, great police cooperation, and Officer Stubbe [Matt Stubbe, Campus Security Officer], we were able to get this solved pretty quickly and I'm very grateful for all of that," Kirkholm said.
Graphic by Krystal Schulte