Poverty simulation teaches students about others' struggles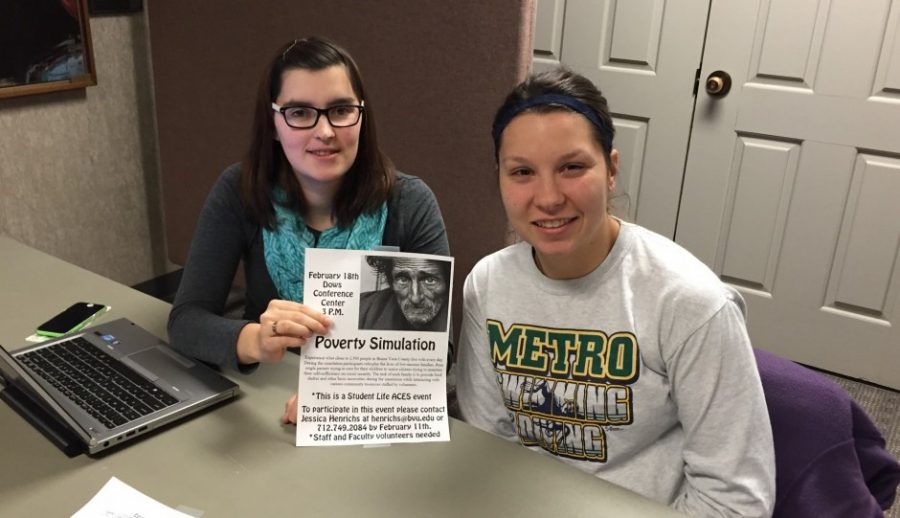 Madeleine McCormick
February 12, 2015
Madeleine McCormick | Assistant News Co-Editor
In Buena Vista County alone, 2,600 people are living below the poverty line. This comes as a huge surprise to many citizens of the Buena Vista University (BVU) community, as well as an opportunity to inform and learn.
Student M.O.V.E. is a student based organization that is designed to motivate the BVU campus to volunteer and commit to serving others. As a supervisor for Student M.O.V.E., Jessica Henrichs designed a poverty simulation that will show what it is like to live below the poverty line that many Buena Vista County citizens do. The simulation is designed to show students, staff, and faculty what it is like to live below the poverty line by giving the volunteers the role of a member in a low-income family.
The participants of the simulation are given a 15 minute "week" in which they are to plan providing for basic necessities and shelter on a limited budget. In order to do this, they will be interacting with other people portraying human service agencies, grocers, pawnbrokers, bill collectors, job interviewers, police officers, and others.
Henrichs says it is very important the students take this seriously because it is easy for people to judge others based on the amount of income they make before really getting to know them.
"It is very possible that some of the participants and even the volunteers have or are living in poverty and are to overcome these struggles in their own lives. The simulation is something that should be taken very seriously by everyone involved," Henrichs said.
Henrichs hopes the students will come from the simulation with a new perspective of what it is like to live under such conditions.
"I want students to truly get into their character and families to make the experience truly authentic. My hope is for students to have their perspectives of poverty be changed and that when they see poverty in their own communities they will want to help," Henrichs said. "Although [the participants] will be using fake money, this is not a game."
The event will be held Wednesday, Feb. 18 in the Dows Conference Center from 3-5 p.m. Students are encouraged to participate in the poverty simulation by signing up and receiving a Student Life ACES credit.