How BVU adds up on the new College Scorecard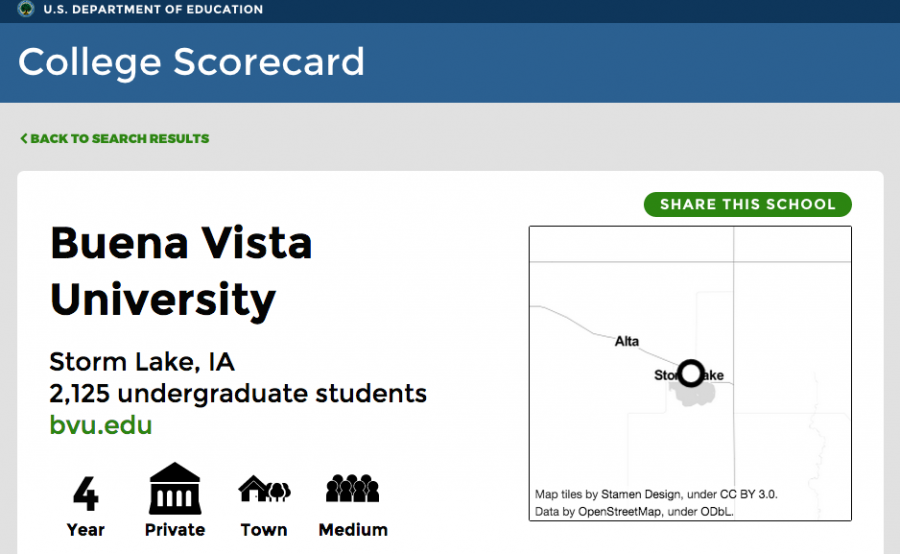 Chad Pribyl | Assistant News Editor
Last month, the U.S. Department of Education launched its new College Scorecard system, an interactive, online tool that offers updated data for both current and prospective college students and families and allows them to compare institutions by graduation rate, cost to attend and salary after graduating.
According to Buena Vista University Vice President for Enrollment Management, Mike Frantz, the College Scorecard website is part of President Barack Obama's overall plan to hold higher education more accountable for showing its value.
"This was a much bigger planned initiative by the Obama Administration. They have been very consistent throughout their tenure trying to push for greater transparency about college information," Frantz said.
While the system increases transparency, many in higher education, including officials at BVU, feel the statistical ratings of the Scorecard do not accurately reflect the more complex outcomes of students attending that college. They worry that the Scorecard's simple three-score report of cost of attendance, graduation rate and income could make actual comparison difficult.
Frantz said the initial vision for the system was more complex, but that the product online now is simplified.
"It appears that this has become too big of a monster to do this in the way it was first envisioned. And so for whatever reason it got boiled down to reporting on just three data items," he said.
Frantz noted accuracy is further compromised because the system allows users to compare institutions ranging from Ivy League schools to state universities to community colleges to private colleges to trade schools as if they are similar to each other.
"What this system does is assume all colleges are the same," Frantz said, noting that students attending colleges across the nation are all very different demographically.
"Differences among students are socio-economic, academic, whatever it may be, and so I'm not convinced it is a good comparison tool to measure quality," Frantz said. "Even the average salary data does not support geography."
So where does BVU stack up on the College Scorecard? Currently, according to Scorecard calculations, BVU has an average annual cost of $18,964 dollars, a graduation rate of 52%, and an expected average salary of $38,000 dollars after graduation. This data is all based on national averages of all variety of institutions. These numbers place BVU just slightly above the national average.
Director of University Marketing and Communications, Jennifer Felton agrees that this limited information does not give a full picture of what BVU, or any university, truly offers.
"This is really one tiny set of research in comparison to a deep set of research," Felton said. "People want to know the history of the institution. They don't just want a one-year snapshot. They want to know other things, so it's kind of narrow. You get three data points when schools have a lot more to share."
Another complication on the site is that schools do not appear side-by-side for comparison. They appear in an alphabetical list, which can make comparing universities a student is interested in difficult.
"You have to do a lot of hunting and pecking," Frantz said.
Overall BVU officials do not feel the new Scorecard has had a negative effect on enrollment. In fact, according to Franz, there are more transfer students this year than there has been in quite some time, and the University also had the highest freshmen-to-sophomore retention rate in 17 years.