How to carve a pumpkin in your dorm
Brittany Poeppe | Assistant Arts + Life Editor
Halloween would not be complete without the ever-popular fall staple: Jack-O-Lanterns. Pumpkin carving can be fun, but in a small college dorm, it can be difficult. Before you get carving, you need a pumpkin. You can choose to go to a pumpkin patch if you're feeling adventurous, but at this point in the month, it might be easiest to buy a pumpkin at Wal-Mart (You can buy them for $5 or $6).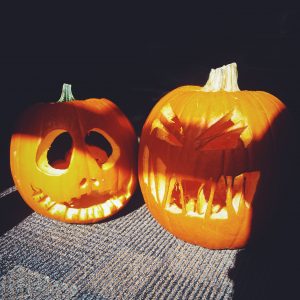 After you've gotten your pumpkin, it's best to wipe it down with a damp paper towel to get any residual dirt or gunk off the surface of the pumpkin. Then, lay down a towel and put the pumpkin on top of it. You can get a pumpkin carving kit from Wal-Mart for under $10, but a knife works well for cutting the first hole.
Use a spoon or the scoop in the carving kit to scrape out the pumpkin guts, and make sure you scrape the lid of the pumpkin too. Scoop out everything until the walls of the pumpkin are light orange and don't have any stringy, gooey guts left on them.
Now comes the fun part. If you use the templates from the pumpkin carving kit, follow the directions and tape the pattern on the skin of the pumpkin. If you're feeling adventurous, find a pattern you like (or create your own) and draw the design on the pumpkin. Use your design to poke holes into the skin or dive right in and carve!
**Note: The tools in the kit are pretty flimsy, so make sure you read instructions before carving. The saw should be held like a pencil; don't try to turn it while it's inside the pumpkin.
After you've finished carving, wipe off the surface of the pumpkin to remove any remaining pieces. To preserve your pumpkin, rub petroleum jelly (Vaseline or Aquaphor) on the carved parts and on the inside of the pumpkin.
To finish, insert a small battery-operated tea light candle (4-pack is $2.50 at Wal-Mart) and enjoy your art!