OAC pumpkin carving contest celebrates the fall season
Kylee Deering | Contributing Writer
Buena Vista loves to celebrate the holidays and Halloween is no exception. All week long there were activities to get involved in on campus. Everything from door decorating to $2 hot chocolate to Nightmare on Lake Ave and the Anime Gaming Society (AGS) Halloween Party. And, of course, there was pumpkin carving. This event was generously put on by Adventure Leadership Program Scholars & Outdoor Adventure Club (ALPS-OAC).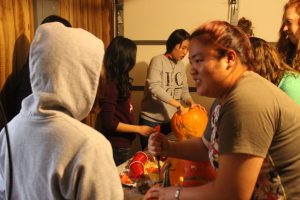 The pumpkin carving in past years is usually held at central campus, but this year, snow and cold temperatures moved the activity to the outdoor rec house garage. This didn't stop pumpkin goers who made the cold trek over to the garage to carve their pumpkins. The turn out was still great, with many people enjoying the evening. For some, this was the first time they had ever had the experience of pumpkin carving and seemed to really like this new activity.
The garage kept people nice and toasty while music played and people mingled, sharing carving kits and creative ideas. Approvals of each other's pumpkins were passed around the room as they were finished, ready to be lit up and set outside on display for others to enjoy.
All of the events this week were a great way to meet up with friends and even meet new people. It's a lot of fun to get involved and do something that's maybe not so school related. Pumpkin carving is typically a tradition that you start doing with family from a young age so doing it on campus is a nice reminder of home and tradition while many other things are a constant change. If you missed out on the pumpkin carving this year, be on the lookout for it next October. There's always plenty of pumpkins and fresh ideas to go around!
Photos courtesy of ALPS