Don't forget your sunnies!
Kylee Deering | Contributing Writer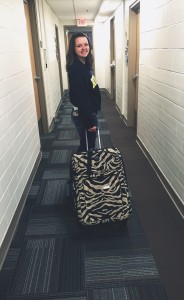 The grass is poking through the melting snow and the world is waking back up as the temperatures climb. The sun is finally blessing us with its presence again and students are bringing their long boards and ripsticks back. Spring is on its way and there's talk in the air of spring break plans.
As you pack for that destination getaway, go through the checklist to make sure you're not forgetting anything, (because who likes to show up without their bathing suit or favorite sunglasses?).
Here's a list of items that you need to make sure are tucked away in your suitcase.
1. Hair Products
If you're anything like me, you get all packed up and walk out of the house without any hair products and don't realize this until you're at the airport. By that time, you have no other option than to settle for whatever is convenient in stores or at the hotel once you reach your destination. If you're on a beach or somewhere with any humidity, you're going to want those products to style your waves.
2. Sunscreen
It's always nice to pack a bottle of sunscreen, even just a travel size in your carry-on (that is if you're flying). You'll be thankful you did once you get to your sunny destination.
3. Tooth brush & Toothpaste
I know we use them everyday and it should be common sense to pack such items but this seems to be one of the most forgotten things when packing. And let's face it, there's nothing worse than going out with morning breath to buy another toothbrush and tube of toothpaste.
4. Swim Suit
You'll probably be in one or two of these a good majority of the week so don't forget to stick those away in your suitcase.
5. Chargers
It doesn't take much to walk off without phone, laptop, camera, and whatever else chargers needed while you're away. We all know if you don't have pictures to document the experience you were never really there.
6. Medications
Remember to pack up any and all medications you're taking because contacting your doctor, locating a pharmacy and getting new prescriptions is a hassle.
7. IDs
Don't forget all forms of identification that you'll need before you leave. Your drivers license, passport, etc. Those flying will need them at the airport, those driving — should we even discuss why you need your license on you?! And for those who are 21… well you could get the gist.
8. (Other) Bathroom supplies
This includes makeup removers, contact lenses/solution, feminine hygiene products, deodorant, all of those good things. Bathroom products are some of the easiest to walk off without so be sure to do a one-over your bathroom space before you head out.
9. Sun Glasses
Last but not least, don't forget your sunnies!
Graphic/photo by Dee Friesen
Photo by Kylee Deering