Cross country competes in first-ever night race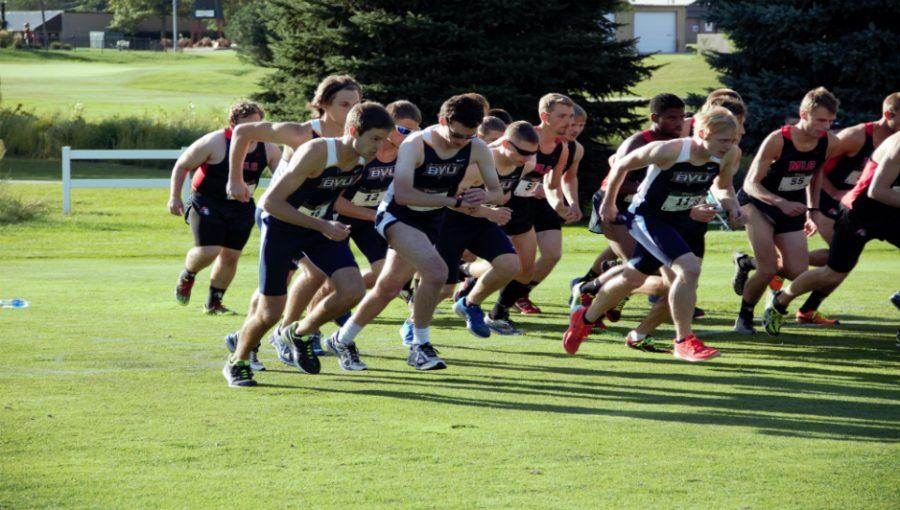 Shelby Bradley
September 13, 2016
Emily Leighton | Staff Writer
On Friday, Sept. 2nd, the Buena Vista University (BVU) men's and women's cross country teams ran in the first Twilight Run held at Augustana in Souix Falls, SD.
The race started at 8 p.m. as the teams used glow sticks to light up the track. The teams were even allowed to wear glow sticks and paint.
Sophomore, Katie Puls, is a captain of the young women's team and finished 131st on Friday.
"The run was very crowded and crazy. When the race began I don't think there was anybody who didn't get bumped by an elbow. It was really cool to see all the teams decked out in glow bracelets and paint. Being the first race of the season I felt like it was very competitive. It was a great way to start off the season," Puls said.
There were major complications for this race including not being able to see the ground as well as a temperature change. The teams also ran against all divisions as opposed to only division three schools.
Senior, Tyler Larson, spoke of the difference between day and night running.
"I was excited. It was not only my first race of the season but also the first race I had ever ran in the dark. They had some big speakers playing some good tunes the whole night, so that got me pumped up to go out and compete! During the summer, I did a lot of my training at night to avoid the heat, so coming into the season I was used to running later in the day. Additionally, I have had a tendency to race better later in the evening throughout my running career, so for me, racing at 9 p.m. was less difficult than if it had been during the day," Larson said.
First year head coach, Colton Slack, was impressed with how his teams ran this race and the set-up of the race overall.
"The team posted some great results and there were several positives that our team took away from the meet. Katie was selected as athlete of the meet on the ladies' side and was our top finisher. Freshman, Zach Kenny, was the athlete of the meet for the men and pulled off a third place team finish on the men's side."
When asked if Puls, Larson and Slack would like to participate in a race like this again, all spoke highly and agreed they would.
"I wanted to attend the Auggie Twilight at Augustana University because it is a great atmosphere and the meet plays host to some great talent. These are teams that we likely won't see again this season and I wanted great competition to kick the season off," Slack said.
Both cross country teams will compete this upcoming weekend Saturday, Sept. 17, at the Woody Greeno Invite in Lincoln, Nebraska, with the race beginning at 10 a.m.
Photo courtesy: Taylor Staab