Universities respond to immigration ban executive order
Megan Snyder, News Editor
February 6, 2017
President Donald Trump's executive order barring people from seven countries from entering the United States has faced major backlash from citizens and universities across the country.
On January 27th President Trump issued an executive order that prevented people from the countries of Syria, Sudan, Iran, Iraq, Libya, Yemen, and Somalia from entering the United States for 90 days and halted all Syrian refugees from entering for 120 days. After being in effect for eight days, the ban was temporarily lifted by U.S. District Judge James Robart's ruling on February 4th.
Students and faculty at several universities have responded to the ban in disfavor. Mary Sue Coleman, the president of the Association of American Universities, issued a statement the day after the executive order stating:
"We recognize the importance of a strong visa process to our nation's security. However, the administration's new order barring the entry or return of individuals from certain countries is already causing damage and should end as quickly as possible."
Coleman went on further to say "[we] also urge the Administration, as soon as possible, to make clear to the world that the United States continues to welcome the most talented individuals from all countries to study, teach, and carry out research and scholarship at our universities."
President of the American Association of State Colleges and Universities, Jennifer Walpole, stated:
"We share in the collective commitment to protect our national security while at the same time enriching our nation with invaluable contributions from abroad. Accordingly, we respectfully urge the administration to reconsider its recent action."
Currently, Buena Vista University (BVU) does not have students from any of the countries affected by the travel ban on the Storm Lake campus.
Dale Scully, Vice President for Student Affairs and Dean of Students, said, "We have had no reports from OSG (formerly GPS) about students being held at airports or otherwise detained."
However, Scully noted that even though there are no students directly affected, there could be other effects.
"We know that we, like many other communities, are affected because we have friends, family, and colleagues being detained and disallowed entrance into the country," Scully said.
BVU President Fred Moore sent a statement to the campus community on January 31st stating that "[recent] directives from the White House have provoked anxiety and confusion throughout the nation and the world, and the Buena Vista University community is not immune"
The statement went on to say:
"Let me assure you, whatever your status under new directives or old, whatever your place of national origin, you all are and have always been welcome members of the BVU community. The BVU community is large and complex as it reaches sites throughout the state of Iowa as well as online. It is a supportive community, one that respects diversity of all types, including diversity of opinion. We know that our diversity makes us stronger, that we live with and learn from our differences. We support each other and assume the best in each other."
President Moore offered support and resources for those who might be anxious about the order. He stated, "We are one community, one BVU, and rest assured that we will continue to respect and support one another whatever changes the future brings."
Read Moore's full statement to the community below.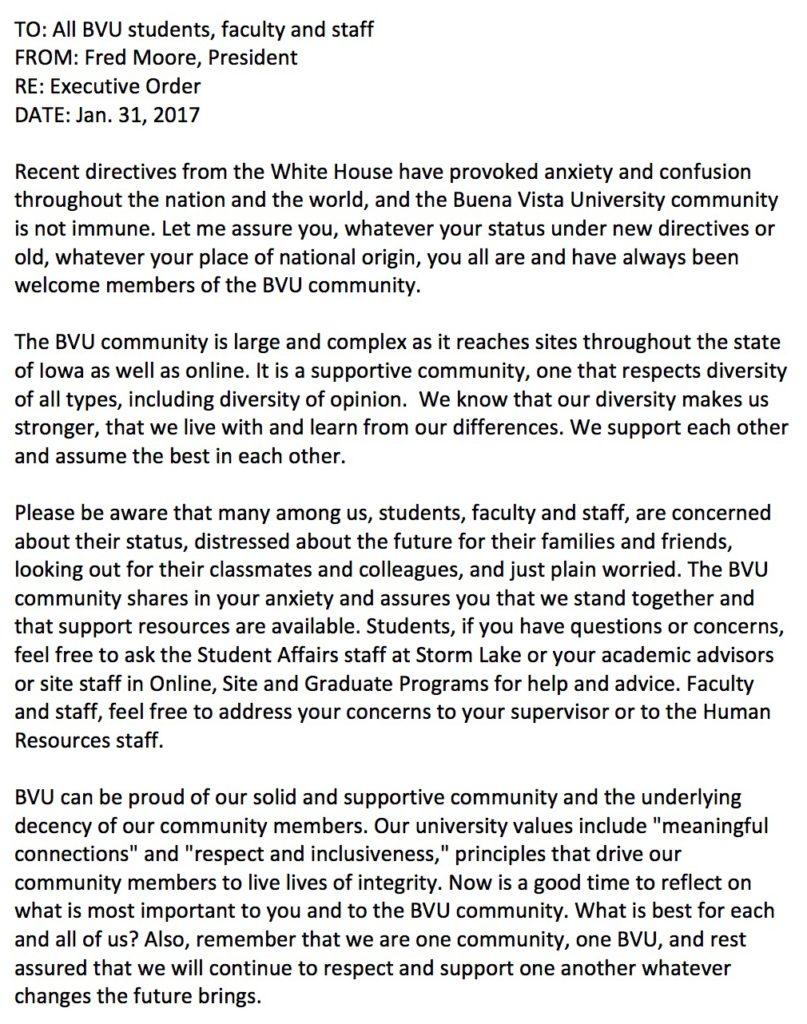 Photo courtesy of Megan Snyder