The Flu Ends with You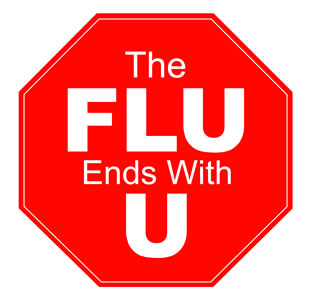 Fall is here. Which also means flu season is approaching.  At Buena Vista University (BVU), influenza viruses can spread quickly with students consistently in close range of each other.  Dorm rooms, bathrooms, classrooms, and social events all create perfect places for these viruses to reside in wait for their next victim. 
Director of Health Services and Wellness Tami Laursen provides useful information about why flu shots are essential during this season to reduce the chances of the flu from unavoidable collegiate exposure to the predatory viruses.  She was also able to provide statistics about the flu, and information as to when the next flu shots are available at BVU:
"According to the Centers for Disease Control and Prevention (CDC), annual vaccination is the best way to reduce the chances that an individual will get influenza (flu).  For all of these reasons, it is important for our faculty, staff, and students to get immunized." encouraged Laursen. 
Laursen emphasized the fact that students who have this infection can experience many consequences.  The flu can occupy your body for eight or more days with negative effects of lots of healthcare use, being gone from class, and performing worse in school. 
Flu shots will be administered in Forum Room 6, in the room across from the Common Grounds Coffee Shop on October 9th, 10th, and 11th.  If you want one, Laursen asks that you sign up in advance at www.bvu.edu/flu. 
BVU gives Health Services an allotted budget to get what is necessary to supply the flu vaccine.  The participation of students is the variable affecting whether or not we keep this service.  There are other ways to avoid contamination, such as thorough hand washing and keeping what you eat and drink from to yourself, which can boost your immune system. 
"The flu vaccine causes antibodies to develop in the body in approximately two weeks after vaccination.  These antibodies provide protection against infection with the viruses that are in the vaccine.  The seasonal flu vaccine protects against the influenza viruses that research indicates will be most common during the upcoming season." said Laursen. 
These flu shots provided are made to protect against three flu viruses.  The H1N1 virus, which is an influenza A virus, the H3N2 virus, which is another influenza A virus, and an influenza B virus are all defended against with the antibodies being provided by BVU. 
Laursen also emphasizes the fact that a person cannot receive the flu from getting a flu shot.  One can still get the flu after being vaccinated, but it all depends on different circumstances such as age, health and the way the vaccine is made being similar to the virus that is circulating. 
If you are not able to make it to times available for flu shots, Health Services is providing them during office hours until they run out.  These hours are Monday through Friday from 8:00 a.m. to 4:00 p.m. 
"I personally think that an annual seasonal flu vaccine is the best way to reduce your risk of getting sick with seasonal flu and spreading it to others," said Laursen.  "When more people get vaccinated against the flu less flu can spread through our campus community."