"This is who I am!"
A Spina Bifida experience    
"This is who I am, and I shouldn't be ashamed of that," said Kyle Wiebers.  
Wiebers, a Buena Vista University senior, is referring to the fact that he was born with Spina Bifida, a birth defect affecting the spinal column. Wiebers says that getting to this point, where he is proud of who he is, took time and struggle, but now, he uses his Spina Bifida as motivation and positivity. Wiebers credits some of that to his mother. He remembers listening to the stories she told him about the doctors repeatedly telling her that he wasn't going to survive. The fact that he did and that she believed he would, has made his motivation stronger. Wiebers now believes he can do anything he puts his mind to. 
———-   
In Wiebers earlier childhood, confidence didn't come so easily. He remembers some of the challenging choices he had to face. One early memory of his disease forced him to think about things differently is him standing at the top of the staircase at three-years-old, trying to figure out how he was going to get down. This was also the first time he actually realized he didn't have any feeling in his left foot.  
"It was hard, and I didn't know why," Wiebers said. "But I adapted and started to slide down the stairs on my butt."  
———-   
Growing up, walking into school felt normal for Wiebers, but to other kids, watching him walk, was another story. People started to stare and make faces. During his elementary years, Wiebers often had moments where he asked himself over and over, why he was so different.  
"That's when I realized, I'm the only person that is like this," Wiebers said.  
 After entering school, Wiebers started to feel progressively worse about himself and how other kids in school were making him feel. As an outgoing kid, being active and wanting to do what the other kids do, is what makes you feel accepted. For Wiebers, acceptance was difficult. He participation was limited because of the damage he could risk causing to his body.  
"With Spina Bifida and some of the side effects that go along with it wasn't able to keep me up with my peers, which was kind of hard to understand at the time," Wiebers said.  
———-  
As Wiebers got older, his family moved and he had to adapt to a new school. Wiebers knew this was his opportunity to do things differently. In one of his classes, they were tasked with writing a memoir. This memoir had to be about something that set you apart from everyone else and written with specific details of experiences in your life.  
"At that point, this was my chance to explore writing about my personal battles," Wiebers said.  
Explaining how difficult his life was because of his physical disadvantages was helpful in educating himself and peers about his diagnosis. However, his new confidence was fragile. Later that year, in health class, the teacher was discussing prenatal care when Wiebers experienced a heartbreak of embarrassment in front of the whole class. The teacher's lesson about prenatal supplements was that mothers can take to help their fetus develop properly was interrupted by a classmate saying, "Well, Kyle, your mom didn't take those otherwise you wouldn't be messed up."  
"From that point, I knew I had to take a different perspective in my memoir," Wiebers said.  
After being bullied in school, Wiebers decided that changing his memoir would make a difference in the level of confidence he had with himself and it would educate those around him.  
———-   
During his first year at Buena Vista University, Wiebers and a couple kids were having a good night playing cards and laughing at each other's jokes when Wiebers overheard a disparaging comment about himself. Somebody had called him a 'limp,' and Wiebers lost it. After years of experiencing bullying and having low self-confidence, Wiebers decided to find a way to make his Spina Bifida educational for himself and others around him. It was then Wiebers discovered that October was Spina Bifida Awareness Month. He decided to use that month to educate others. He started making ribbons to share with others and offering the message that being different isn't a bad thing.   
"This is who I am and I shouldn't be ashamed of that," Wiebers said.  
——————— 
Wiebers has continued to share his motivation and positivity with others during his four years of college life at BVU. After all, Wiebers has been fighting Spina Bifida since he was born, and his experiences since birth have taught him that he has to mentally motivate himself to survive. He has also used this as an opportunity. He continues awareness campaigns every October, and he also runs marathons in donation and support of others who have the defect.  
He has also developed a determination that drives him every day.  
"If you tell me I can't do something, I will do everything in my will power that I can to prove you wrong," Wiebers said.  
Photo by Justice Gage, courtesy of Kyle Wiebers
Leave a Comment
About the Contributor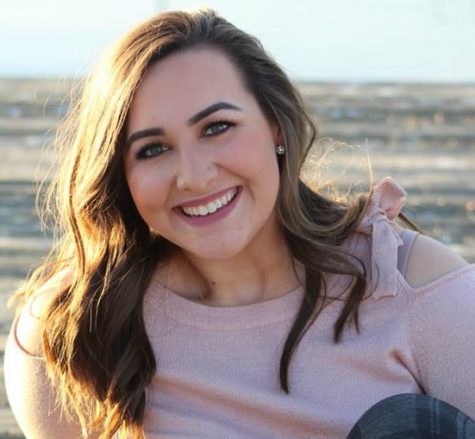 Alyssa Donnelly, Lifestyle & News Photographer
Hi y'all! My name is Alyssa Donnelly, I'm a Strategic Public Relations major, with a digital media minor! I have been apart of The Tack for three years,...